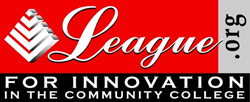 "The addition of Valencia College will only strengthen the organization." - Rufus Glasper
Chandler, AZ (PRWEB) October 06, 2016
The Board of Directors for the League for Innovation in the Community College is pleased to welcome Valencia College to its membership. This institution will be represented on the Board by President Sandy Shugart.
"Valencia College has long demonstrated its commitment to innovation and is seen as one of the nation's leading community colleges, setting the bar for building an inclusive culture of student success," said Board Chair Dr. Anne Kress. "It is an honor to welcome such a dynamic and highly regarded institution to the League board."
Founded in 1968 by B. Lamar Johnson and a dozen U.S. community and technical college presidents, the League has proudly served community college institutions for almost five decades. The Board colleges are joined by almost 500 institutions that hold membership in the League Alliance. With this core of powerful and innovative community colleges and 100 corporate partners, the League fulfills its mission to cultivate innovation in the community college environment through conferences and institutes; online resources; research; and projects and initiatives with member colleges, corporate partners, government agencies, and private foundations.
As the League approaches its 50th year, the Board of Directors made the decision to expand in an effort to include additional outstanding community colleges. CEOs from the most influential, resourceful, and dynamic community colleges and districts in the world currently comprise the League's Board. League President and CEO Rufus Glasper noted that, "The addition of Valencia College will only strengthen the organization."
According to the college's website, Sanford "Sandy" Shugart has served as the fourth President of Valencia College in greater Orlando, Florida, since 2000. As winner of the first Aspen Prize for Excellence, Valencia is one of the most celebrated community colleges in America. Serving some 70,000 students per year, Valencia is known for high rates of graduation, transfer, and job placement, and has become something of a national laboratory for best practices in learning-centered education.
"For most of my career, I've looked at the League as a brain trust and laboratory for the community college movement," said Dr. Shugart. "So I am delighted to be invited to engage with this wonderful organization and its team of thought leaders in a new way."
About the League for Innovation in the Community College
The League for Innovation in the Community College (League) is an international nonprofit organization with a mission to cultivate innovation in the community college environment. The League hosts conferences and institutes, develops print and digital resources, and leads projects and initiatives with almost 500 member colleges, 100 corporate partners, and a host of other government and nonprofit agencies in a continuing effort to advance the community college field and make a positive difference for students and communities. Information about the League and its activities is available at http://www.league.org.