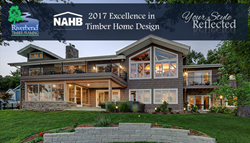 Blissfield, Michigan (PRWEB) October 05, 2016
A home designed and produced by Riverbend Timber Framing of Blissfield, Michigan, was honored at the Jerry Rouleau Awards for Excellence in Home Design, hosted by the National Association of Home Builders' Building Systems Councils.
"The Kalamazoo Residence," a custom, waterfront timber frame home received the award for Excellence in Timber Frame Home Design in the 3,000 - 4,000 square feet category.
The 3,600 square foot home was designed by Riverbend's in-house design group. The timber frame structure was produced by craftsmen in their Blissfield shop and assembled by a Riverbend crew on the home's site, located about halfway between Kalamazoo and Battle Creek, Michigan.
This is the third year in a row that one of Riverbend's homes has been honored by the Building Systems Councils.
"It is always an honor to be recognized by the NAHB," said President James Banner, "especially for this beautiful lake home that showcases the talent and prowess of our employees."
The Jerry Rouleau Awards for Excellence are judged by an independent panel of industry experts. The 2017 awards were presented September 23rd during the Building Systems Councils' annual Summit. To learn more visit: http://www.nahb.org/bscawards
####
ABOUT Riverbend: Riverbend Timber Framing is a designer, producer and builder of traditional, mountain, barn, cottage, and waterfront timber frame homes for clients across the US, Canada and around the world. Riverbend is part of PFB Custom Homes Group, LLC which also includes additional brands, PrecisionCraft Log & Timber Homes, M.T.N Design, Point Zero Homes and TimberScape. Visit http://www.riverbendtf.com/ to learn more.
ABOUT NAHB: The National Association of Home Builders is a Washington-based trade association representing more than 140,000 members involved in home building, remodeling, multifamily construction, property management, subcontracting, design, housing finance, building product manufacturing and other aspects of residential and light commercial construction. NAHB is affiliated with 800 state and local home builders associations around the country. NAHB's builder members will construct about 80 percent of the new housing units projected for this year.