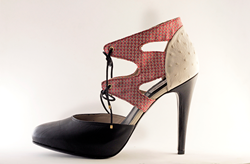 Los Angeles, CA (PRWEB) October 05, 2016
Miss Garcia Footwear launches globally with the international release of their latest Autumn-Winter collection and official PR launch in Los Angeles, CA. The Madrid Fashion brand draws inspiration from Miss Garcia's rich and vibrant Spanish soul, representing the strong and passionate spirit of the Spanish woman. The "Collage" Autumn-Winter line features a kaleidoscope of mixed media, lavish details and vibrant colors framed against shoes of exceptional architectural grace. The must-have choices cover a wide range of styles from chic flats and classic pumps to sexy open-toes and strappy high heels. Made from the finest Spanish and Italian leathers along with rare exotic materials. Each Miss Garcia shoe is a timeless work of art and retails between $270 and $770.
To celebrate the international release and Autumn-Winter collection, Miss Garcia will be holding an exclusive by invitation only industry launch party on Thursday, October 6, 2016 from 19:00-21:00. The launch will be held at the Miss Garcia flagship store on the renowned Golden Mile for an evening of cocktails, hor d'oeuvres, and, of course, shoes! A master craftsman will be on display handcrafting a pair of shoes throughout the evening to demonstrate the artistry and care that go into making each Miss Garcia shoe.
About Miss Garcia. Miss García is a luxury footwear brand, creating exclusive handcrafted shoes made 100% in Spain from the finest materials in the world. Each shoe is truly a work of art and can be customized to fit each customer's unique personality. The Miss Garcia Collection is available from, sizes 4-11, about $270 to $770 at http://www.missgarcia.es