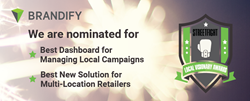 Marketers trust Brandify to stay ahead of mobile customers, industry trends and competitors.
Anaheim, CA (PRWEB) October 05, 2016
Brandify, the industry-leading provider of location-based digital marketing solutions, announced today that it has been nominated for the Best Dashboard for Managing Local Campaigns and Best New Solution for Multi-Location Retailers categories in the 2nd annual Local Visionary Awards.
The Local Visionary Awards, hosted by Street Fight, celebrate brilliant and intrepid organizations who are moving the local marketing technology industry forward with creativity, ingenuity and success.
The Best Dashboard for Managing Local Campaigns category puts a spotlight on technologies that play a meaningful role in creating and optimizing campaigns for enterprises. The Brandify Platform has received recognition in this category for assisting a national auto-parts retailer in developing a successful multi-layered post-acquisition local marketing strategy which encompassed local presence, claiming, syndication, real-time reputation management and Brandscore reporting and generated 99% page one visibility on Google.
The Best New Solution for Multi-Location Retailers highlights solutions providers that are leading the way in delivering blue-sky strategies to deliver local marketing success for multi-locationi retailers. Brandify Mobile, the company's set of mobile-centric solutions and services that empower brands to be present at every local customer touchpoint, was launched this Spring and has been nominated as a finalist for this category.
"We are thrilled and appreciate the recognition in this important program. Over the past 19 years, our platform has grown to serve a single answer for brands to use in developing innovative marketing strategies," said Manish Patel, CEO of Brandify. "Marketers trust Brandify to stay ahead of mobile customers, industry trends and competitors."
The 2nd annual Local Visionary Awards received 176 entries across 13 categories, and winners will be named at Street Fight's 6th annual Street Fight Summit on Oct. 25th in New York City, where 400+ leaders in local marketing tech will gather to learn and network as they push the industry forward.
"We are very pleased with the finalists that emerged this year. They are truly demonstrating innovation that gets positive results. One goal of the Local Visionary Awards is to highlight companies and initiatives that may become models for the industry," said Laura Rich, CEO of Street Fight.
For more information on the Local Visionary Awards, visit http://streetfightmag.com/local-visionary-awards-2016/.
About Brandify
Brandify is the single answer to Local, connecting global brands with consumers in the moment by leveraging the most comprehensive location technology solutions in the market. Brandify has simply connected over 500 global brands in over 4.5 million locations, including healthcare, finance, and retail, to consumers worldwide since 1997. The company provides the multi-location digital marketing technology, services and intelligence needed to understand consumer intent. Marketers can simplify local decisioning with actionable recommendations, using its' field-tested benchmarking metric, Brandscore.
About Street Fight:
Street Fight is an integrated media company focused on the business of hyperlocal marketing, commerce and technology. Street Fight produces a newsletter for over 9,000 daily readers, publishes commentary, original research, case studies, and how-to articles on their website, and hosts a series of live annual events to help the hyperlocal ecosystem achieve sustainable business models. To learn more, visit http://streetfightmag.com or contact us directly at info@streetfightmag.com