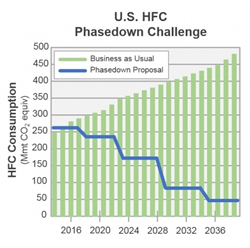 Carlsbad, California (PRWEB) October 06, 2016
Replacing Electric Chillers with Absorption Chillers from ENRGISTX and Shuangliang Eco-Energy:

Eliminates Hydrofluorocarbon emissions
Reduces Greenhouse Gases
Reduces Life cycle costs
Recovers waste heat to increase system efficiencies
Climate Summit Mandates Target Reductions in Hydrofluorocarbon Emissions from Air Conditioning:
HYDROFLUORCARBON (HFCs) is the "worst greenhouse gas you've never heard of". HFC's are used in electric chillers and air conditioning equipment universally. HFC's are considered to be up to 15,000 times more harmful than Carbon Dioxide in our battle against global warming, and are specifically targeted in the recent Montreal Protocol for significant reductions.
ENRGISTX Return of the Absorber Promotion:
In response to this mandate, ENRGISTX has a program to inform, educate, and incentivize the Architecture, Engineering and Construction (AEC) industry on the metrics and benefits of utilizing the Absorption Chiller as a solution to this challenge.
Based on qualification using the "ENRGISTX Absorption vs. Electric Chiller Calculator" and the customers utility rate and usage data, ENRGISTX guarantees at least a 20% return on investment, when replacing an electric chiller with the ENRGISTX Shuangliang Eco-Energy Absorption Chiller. Shuangliang Eco-Energy is the world's dominant manufacturer of Absorption Chillers, with over 25,000 installations worldwide, and 30 years experience.
So What Are Absorption Chillers?
Absorption chillers are thermal machines that use heat for their energy source. They produce chilled water, hot water, and/or a combination of the two for comfort cooling, heating, and domestic hot water for many applications including commercial and industrial buildings, institutions and industrial facilities and processes.
The absorption cycle, utilizes natural gas, hot flue gases, and/or hot fluids up to thousands of degrees Fahrenheit, and converts this energy for many useful purposes.
Absorption chillers have been a dominant method of comfort cooling in most of the world over the past 30 years. However, until recently in the United States, the existence of low-cost, utility supplied, dependable electricity and the relatively high price of natural gas had favored electric chillers.
The world is changing and the "Return of the Absorber" is here!
In most states, electricity rates remain relatively low. Yet, in the most populous states and cities; utilities impose Demand Charges during high usage periods (in addition to the kWh usage rate), which raise a customer's electric bill substantially.
This is one key reason businesses should consider natural gas fired absorption chillers as a replacement for their electric counterparts. In most cases, the savings will pay for the replacement in just a few years, saving millions of dollars over the 20 to 30 year lifespan of the absorption chiller.
With federal and state incentives for businesses to generate their own power (Combined Cooling Heating and Power (CCHP)), absorption machines can produce "free" cooling and hot water by using the waste heat of the generator. For baseload applications, this will bring the investment payback to within one to two years, when compared to installing an electric chiller.
Together with these economic benefits for absorption chillers, they produce ZERO HYDROFLUORCARBONS, and the added benefit of reducing carbon footprint.
An excellent example can be seen in the Southern California market, where Southern California Edison imposes multiple Demand Charges for large customers totaling $34.50/kW. A typical electric centrifugal chiller consumes 0.7kWh/ton of cooling, therefore a 1,000 ton chiller would use 700kW/h. Beyond the base electric rate, Demand Charges more than double the cost of electricity during the year. Replacing this electric chiller with a natural gas fired absorption chiller would save $188,000 per year, after the cost of natural gas to fuel the Absorption Chiller,
In this example:

Simple payback on the Absorption Chiller would be under 3 years
20 plus year lifecycle savings over $3.5 million dollars, 38% IRR
Significant reduction in Hydrofluorocarbon Greenhouse Gases
Resulting in a very compelling value to the business and to our environment.
It is time for the return of the absorber!
"Globally, stationary A/C systems account for nearly 700 million metric tons of direct and indirect CO2-equivalent emissions (MMTCO2e) annually. Indirect emissions from electricity generation account for approximately 74% of this total, with direct emissions of HFC and hydrofluorocarbons (HFC's) refrigerants accounting for 7% and 19%, respectively. While electricity consumption is the largest driver of GHG emissions from A/C (i.e., indirect impacts), emissions of HCFC and HFC refrigerants have a disproportionately large global warming impact relative to their mass. Addressing direct emissions therefore offers an important path to substantially reducing A/C GHG emissions." - The Future of Air Conditioning in Buildings, DOE Building Technologies Office paper published July, 2016.
To receive your free "Absorption vs. Electric Chiller Calculator", used in the above example, register at ENRGISTX.com.