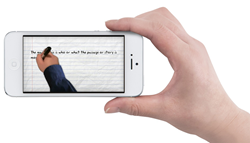 Berkeley, CA (PRWEB) October 10, 2016
Just in time for the new school year, K-12 teachers will be able to assess students in reading and mathematics and take advantage of new instructional resources using Augmented Reality (AR). Teachers will have nearly 2,500 instructional activity sheets available in English language arts and mathematics for use with remediation, reinforcing lesson plans, and enrichment for students. Embedded in each K-12 activity is a trigger image, which when scanned with a smart device brings instruction to life through AR.
"If you have been following the craze around Pokémon GO, then you know Augmented Reality is HOT. Kids find AR sensational and it's engaging. Look, this is the 21st century and it's not a one-size-fits-all when it comes to student learning, assessment, and instruction. Using LGL's adaptive diagnostic assessment data with AugThat's AR instructional resources, we have given teachers a very powerful tool to scaffold instruction, keep students engaged, and make learning fun," said Richard Capone, CEO of Let's Go Learn.
AugThat! harnesses cutting edge instructional technology to ensure that every child can be successful with utilization of smart devices, tablets, computers, and augmented reality. Teachers are able to bring lessons to life and create a three-dimensional world of learning.
Let's Go Learn advances K-12 student learning through intensive diagnostic assessment in reading and mathematics, combined with prescriptive instructional lessons to help teachers accelerate the differentiation process. Let's Go Learn's portfolio consists of online diagnostic assessment (available in English and Spanish), real-time reporting of test results linked to a series of instructional resources, and professional development courses for teachers and specialists.
# # #
For more information about Let's Go Learn or AugThat!, please call 1-888-618-7323, or visit online at http://www.letsgolearn.com/lglsite/augthat