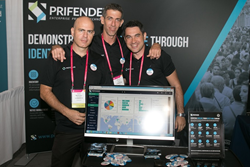 The entire Prifender team are honored and very excited that the market is recognizing Prifender as a leader and innovator.
San Jose, California (PRWEB) October 07, 2016
During the Privacy. Security. Risk (PSR) Conference in Silicon Valley, the International Association of Privacy Professionals (IAPP) held its first-ever Emerging Privacy & Security Technologies Tech Fair within the Exhibit Hall of the Convention Center. Attendees were able to tour the competing tech vendor booths and vote for the most promising startup within the privacy and security industries.
After the responses were tallied, the winner of the inaugural IAPP Tech Fair vote was Prifender, an emerging startup with offices in Israel and San Francisco.
Prifender's solution changes the status quo of privacy management. The privacy industry relies today on paper-based solutions such as contracts, confidentiality agreements, training, and policies. There are several software solutions that address the need to document actions and demonstrate compliance, but there are no technical solutions that allow an organization to do so automatically. Accountability today is not supported by technology, but rather by manual work and some degree of after-the-fact checking.
Prifender addresses the lack of true accountability by developing capabilities that go to the heart of privacy management -- the control of the identities that make up the privacy obligations for the organization.
Prifender is able to create an effective mechanism for associating privacy obligations with their corresponding identities by using forensic and artificial intelligence (AI) technology. Forensics and AI allow Prifender to maintain an ever-updating inventory of specific identities and their multiple copies across thousands of applications and repositories.
Prifender's forensic capabilities also allow customers to identify transfers across borders, disclosures to external parties, and the sharing of personal information among the organization's own legal entities. Better yet, Prifender allows companies to prove their compliance.
With the inventory of identities in place, users can apply both out-of-the box and customized dashboards, advanced queries, and enforcement actions to manage and monitor the company's compliance. Prifender provides companies with a mechanism to demonstrable compliance with privacy obligations, track key performance indicators, and review the activities that take place over millions of identities.
Upon winning the competition, Nimrod Luria, Prifender's CEO, said that he and the entire Prifender team are honored and very excited that the market is recognizing Prifender as a leader and innovator.
Omer Matityhau, Prifender's COO, added that the fact that the votes were made by the same organizations that may use Prifender in the future is very encouraging.
About Prifender
Prifender is using artificial intelligence technology to map all personal information across networks (structured and unstructured), while associating identities with their respective obligations. Using Prifender, enterprises can prove their regulatory compliance, avoid fines and improve customer satisfaction.
To know more, visit http://www.prifender.com
Contact:
Prifender
156 2nd St, San Francisco, CA 94105
(415) 890-6979
demo(at)prifender.com