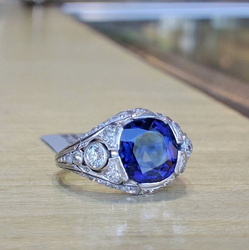 We are thrilled to be returning to New York City and to the newly renovated Jacob Javits Center.
New York, NY (PRWEB) October 05, 2016
The second installment of the U.S. Antique Shows' LUEUR event is taking place at the Jacob Javits Center, October 28-31, 2016. At this open-to-the-public event, a highly curated group of the world's most renowned antique, estate and vintage watch and jewelry dealers will showcase prized pieces from a wide range of jewelry history periods, from Edwardian to contemporary. Attendees can expect to see an array of rare and collectable pieces from famous names such as Cartier, Tiffany, Van Cleef & Arpels and Jaeger-LeCoultre, as well as one-of-a-kind diamond, colored gemstone and pearl jewelry.
Adding value to the event experience, LUEUR will also offer complimentary appraisals to all attendees. On Saturday from 12pm to 5pm, Skinner Auctioneers & Appraisers will provide an unbiased, expert opinion of one piece of attendee's collectibles or antiques, including a verbal estimated range of its fair, market value (no written valuations will be given).
"We are thrilled to be returning to New York City and to the newly renovated Jacob Javits Center," enthused Emerald Expositions Vice President and U.S. Antique Shows' General Manager, Dan Darby. "In addition to being timed perfectly for our retailer attendees who are acquiring inventory for the holidays, autumn is a great time for private connoisseurs to add to their collections before the holiday social season."
The expansion of the 7 subway line and the ubiquitousness of app-based taxi companies such as Uber and Lyft make getting to the Javits Center easier than ever before, and the expansion of the High Line to 34th Street means the general vicinity has become a must-visit destination for tourists and New Yorkers alike. These enhanced conveniences and atmosphere will be important contributing factors to maintaining the positive momentum of the past LEUER events.
LUEUR is open on Friday and Saturday from 11am to 7pm, on Sunday from 10am to 7pm, and Monday from 10am to 3pm. Tickets are just $20 and are valid for all show days. For more information or to apply for press credentials, please contact Michelle Orman at (646) 302-5521 or via email at Michelle(at)LastWordComm(dot)com. To purchase tickets, visit http://www.lueurny.com/.
# # #