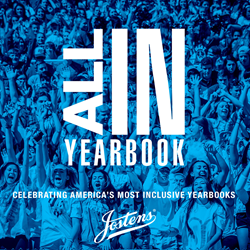 Minneapolis, Minn. (PRWEB) October 05, 2016
Jostens, the leading provider of publications, jewelry and consumer goods serving the K-12 and college market, today recognized 720 U.S. elementary, middle and high schools for featuring 100 percent of their students at least three times in their 2015-2016 yearbooks. The three-time coverage benchmark is one commonly used by yearbook staff to ensure student inclusion and yearbook interest.
"The yearbook is the ultimate inclusivity platform for American schools. Every student can and deserves to be represented," said Murad Velani, Jostens COO. "When compared to other yearbook companies, Jostens leads in helping schools capture and publish compelling stories and images of their students, teachers, school and community."
In the spirit of National Yearbook Week, which runs the week of Oct. 3, Jostens wants to help even more schools reach "Most Inclusive Schools in America" status.
"Jostens provides multiple tools that can help amplify student inclusivity, one of which is our ReplayIt mobile app," Velani said. "ReplayIt allows students, parents and teachers to easily share photos with yearbook staff at their schools, and we see schools that use the app tend to have higher yearbook coverage rates than schools that don't."
Throughout the 2016-2017 school year, Jostens will look for more opportunities to promote inclusivity, and a new list of the "Most Inclusive Schools in America" will be announced in 2017.
About Jostens Yearbooks
Founded in 1897, Jostens has produced school yearbooks for more than 60 years. Schools rely on Jostens and their local Jostens representatives to provide a combination of journalism education and technology tools to deliver a learning experience that helps students develop 21st century skills.
About Jostens
Jostens is a trusted partner in the academic and achievement channel, providing products, programs and services that help its customers celebrate moments that matter. The company's products include yearbooks, publications, jewelry and consumer goods that serve the K-12 educational, college and professional sports segments. Founded in 1897 and based in Minneapolis, Minn., Jostens is a subsidiary of Newell Brands and can be found online at http://www.jostens.com.
About Newell Brands
Newell Brands (NYSE: NWL) is a leading global consumer goods company with a strong portfolio of well-known brands, including Paper Mate®, Sharpie®, Dymo®, EXPO®, Parker®, Elmer's®, Coleman®, Jostens®, Marmot®, Rawlings®, Oster®, Sunbeam®, FoodSaver®, Mr. Coffee®, Rubbermaid Commercial Products®, Graco®, Baby Jogger®, NUK®, Calphalon®, Rubbermaid®, Contigo®, First Alert®, Waddington and Yankee Candle®. For hundreds of millions of consumers, Newell Brands makes life better every day, where they live, learn, work and play.
This press release and additional information about Newell Brands are available on the company's website, http://www.newellbrands.com.