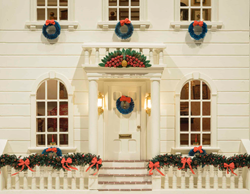 This enchanting dollhouse remarkably compliments Winterthur's collection of 18th- and 19th-century miniature objects.
Wilmington. Delaware (PRWEB) October 19, 2016
In celebration of the extraordinary dollhouse recently gifted to Winterthur Museum, Garden & Library, "Yuletide at Winterthur" 2016 will highlight the holidays through a child's eyes in the 19th and 20th centuries and feature the exquisite house-in-miniature as a central attraction. Winterthur received this remarkable gift from Jack D. McDaniel, husband of the late Nancy B. McDaniel (1932--2015), designer of the dollhouse, which will be on display in the Galleries Stair Hall from November 19, 2016, through January 8, 2017.
To celebrate the house's debut, Yuletide at Winterthur will highlight the holidays as experienced by children from 1850 to 1950 and feature museum room displays that include Winterthur's own collections of miniature objects. In a nod to Winterthur's current exhibition Lasting Impressions: The Artists of Currier & Ives, Yuletide will explore why a "Currier & Ives Christmas" is so beloved and still resonates with people today.
"A special attraction that will make Yuletide truly magnificent is the extraordinary dollhouse filled with exquisite miniature furnishings generously gifted to Winterthur. This remarkable dollhouse compliments Winterthur's collection of 18th- and 19th-century miniature objects that H.F. du Pont acquired and displayed, while the meticulous arrangement of the dollhouse rooms reveal Nancy McDaniel shared du Pont's keen eye for detail and design," said Yuletide Curator Deborah Harper.
Yuletide tour tickets are honored for two consecutive days and include access to the garden, a garden tram tour (weather permitting), the Galleries and special exhibitions, and a Yuletide house tour. Adults, $22; Seniors and Students, $20; Groups of 15 or more, $19; Children under 2, free; Members, free. Tours available daily. Reservations are recommended.
Winterthur is open 7 days a week during Yuletide, 10:00 am--5:30 pm. Holiday concerts, lectures, food and wine celebrations, brunch with Santa, and more are planned. Please visit winterthur.org for additional information or call 800.448.3883.