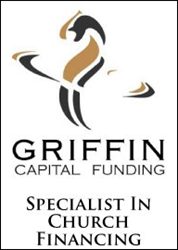 The key to our success is in identifying those churches that have the potential to be helped and are willing to make the changes necessary to move beyond their issues
Fredericksburg, Virginia (PRWEB) October 05, 2016
Griffin Capital Funding, a leader in church financing, manages the newly formed Griffin Church Loan Fund 1 along with Dr. Deforest Soaries, Jr. The new program is funded by qualified investors and helps to save churches from bankruptcy and foreclosure.
Griffin Capital Funding (Griffin) proudly announces the formation of Griffin Church Loan Fund 1. Griffin Church Loan Fund 1 was developed to make, hold, and service loans backed by commercial real estate with a focus on church properties. The mission of the fund is to help churches facing financial hardship by loaning them money when traditional lenders say no while earning investors above market returns secured by first trust loans against real estate at low loan to values.
Griffin Church Loan Fund 1 is managed by Griffin Capital Funding, one of the largest church financing companies in the country and Dr. Deforest Soaries, Jr., former Secretary of State of New Jersey and the President of dfree, an organization dedicated to teaching individuals and churches how to use debt responsibly. "Over the years I have seen too many churches lose their buildings through foreclosure and bankruptcy. We are talking about churches that have built up equity in their properties and for one reason or another fall behind on their payments and then lose their property. I have also seen churches get into trouble with the IRS over payroll taxes and then lose their buildings. We wanted to create a second chance loan fund that gives these churches a solution to save their building and correct whatever issues got them into trouble." John Berardino, President of Griffin Capital Funding.
The funds for the loans are raised through Qualified Investors who meet certain requirements set by the Securities and Exchange Commission. Borrowers make monthly payments and investors are paid on a quarterly basis. "Our focus is on creating a win-win situation where we can take a church from the brink of disaster, give them a loan to pay off their current troubles and then give them a few years to get back on their feet. Investors earn above market returns on real estate backed loans with good loan to values. The church wins by saving their property and the investors win by earning above market returns." John Berardino. Often times Griffin is able to negotiate a discount from the current lender which the church then benefits from by having a reduced mortgage balance. Although these loans are offered in most states, they are not offered in rural markets.
This is the first fund of its kind dedicated to helping churches; there are a lot of private money lenders in the marketplace but almost all of them shy away from church properties. Most private lenders do not understand the collateral or how to underwrite a church. With almost One Billion dollars in total closed loans and over 1,000 closed church loans Griffin has a unique understanding of the market and churches. "The key to our success is in identifying those churches that have the potential to be helped and are willing to make the changes necessary to move beyond their issues" said Berardino.
If you are a church looking for a loan or an investor interested in learning more about the investments offered through Griffin Church Loan Fund 1 you are encouraged to visit http://www.church-loan.com for more information or by calling (800) 710-6762.
These securities are being offered under an exemption provided by SEC Regulation D Rule 506(c). Only verified accredited investors who meet the SEC Regulation D 501 "accredited investor" accreditation standards may invest into this Offering.
Any historical performance data represents past performance. Past performance does not guarantee future results; Current performance may be different than the performance data presented; The Company is not required by law to follow any standard methodology when calculating and representing performance data; The performance of the Company may not be directly comparable to the performance of other private or registered funds or companies; The securities are being offered in reliance on an exemption from the registration requirements, and therefore are not required to comply with certain specific disclosure requirements; The Securities and Exchange Commission has not passed upon the merits of or approved the securities, the terms of the offering, or the accuracy of the materials.
About Griffin Capital Funding (http://www.church-loan.com):
Griffin Capital Funding has been serving churches for 16 years by providing church loans for the refinance, construction, renovation and purchase of almost any church building (church-loan.com). On average, Griffin provides about $100,000,000 a year in loans to churches. Griffin Capital Funding is one of the most well-known and respected church financing companies in the country. Griffin Capital Funding also offers loans to for profit businesses through the SBA 504 loan program.