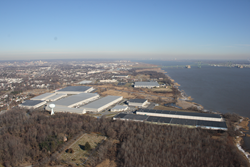 "We are proud to continue our 104 year tradition and celebrate our company growth into the Harvey, Hanna & Associates properties", Terry Turner - Operations Manager, Choctaw-Kaul
Newport, Delaware (PRWEB) October 06, 2016
Harvey, Hanna & Associates, Inc. (HHA) is pleased to welcome Choctaw-Kaul Distribution Company to the Twin Spans Business Park in New Castle.
Choctaw-Kaul recently leased 104,268 SF of warehouse sales and distribution space at 500 Ships Landing Way in the Twins Spans Business Park (TSBP) in New Castle, Delaware. HHA has welcomed three new tenants to the 500 building since July totaling 160,000 sf of commercial space – which is now 100% occupied.
Choctaw-Kaul is an award-winning manufacturer and distributor of gloves, personal protective equipment, safety supplies, janitorial supplies, personal protective equipment, hand tools, power tools and MRO (maintenance, repair, operations) supplies. Choctaw-Kaul is headquartered in Detroit, Michigan, where the company has operated since 1912 operating 11 distribution centers and 15 sales offices throughout the United States, Canada and Mexico. To learn more about Choctaw-Kaul, their history or view their equipment supply catalog, visit: http://www.choctawkaul.com
"Choctaw-Kaul is a great addition to the Twin Spans Business Park and will provide excellent services, jobs and value to the local economy. They are an ideal tenant for Twin Spans as their corporate mission aligns with our on-going commitment to occupational safety and standards", said Thomas J. Hanna, Vice-President/C.O.O., Harvey, Hanna & Associates, Inc.
"We are proud to continue our 104 year tradition and celebrate our company growth into the Harvey, Hanna & Associates properties", said Terry Turner, Operations Manager, Choctaw-Kaul Distribution, Co.
Tripp Way and Andrew White of DSM Commercial Real Estate Services in Newark, DE served as Choctaw-Kaul's tenant representation for this lease transaction.
TSBP is considered by many to be the premier distribution campus in the mid-Atlantic region, featuring 1.85 million square feet of Class A commercial warehouse space spread across 135 acres of land along the Delaware River. Twin Spans further offers superior logistics throughout the mid-Atlantic region and points beyond, with immediate access to I-95, I-295, I-495 and the Delaware Memorial Bridge.
Harvey, Hanna & Associates (HHA) is a full service Commercial Real Estate Redevelopment Company featuring 3,000,000 square feet of prime location commercial, retail, and industrial real estate in Delaware.