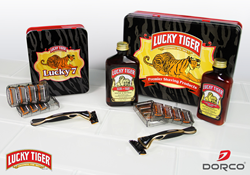 ..more than 140 years of male grooming industry expertise. Nothing was sacrificed for the modern man–a perfect shave defined.
SAN DIEGO, California (PRWEB) October 05, 2016
Dorco USA announced today the launch of LuckyTigerShaving.com, a direct-to-consumer ecommerce web site featuring premium shaving products manufactured by Dorco® and Lucky Tiger®.
Together for the first time, these two brands have created a product to deliver the perfect shave for men everywhere. With this union, an unparalleled shaving experience that covers the before, during and after the shave, is born. Quality, sophistication and outstanding results for all men.
Consumers have come to love the Liquid Shave Cream and the After Shave & Face Tonic offered by Lucky Tiger®. Now, both of these wildly popular products are available with the Lucky 7 Shaving System built by Dorco®, a shaver built with the highest of quality standards. Premier design and exceptional quality–the hallmarks of what you've come to expect from both Lucky Tiger® and Dorco®. For the sophisticated tastes of a gentleman but affordable for all.
Featured products include the Lucky 7 Shaving Combo Set and the Lucky 7 Starter Set.
"To put it simply, these products will offer you the best shave you've ever experienced. I guarantee it." stated Ken Hill, President of Dorco USA. With equal enthusiasm, Alan Murphy, President of BlueCo Brands (owner of Lucky Tiger®.) stated "We couldn't be happier with this union. The iconic brands bring to consumers more than 140 years of male grooming industry expertise. Nothing was sacrificed for the modern man–a perfect shave defined."
All products are available for purchase at http://www.LuckyTigerShaving.com.
About Dorco USA
Headquartered in San Diego, CA, Dorco USA is a leading provider of technologically advanced and superior quality disposable razors, shaving systems and shaving cartridges for men and women. Its product origins date back to 1955 when a small company named Dorco® was founded in South Korea. Today, Dorco® is Asia's market leader for disposable shaving products and is a household recognized brand in numerous countries around the world. By strategically aligning with Dorco®, Dorco USA has been able to introduce the pinnacle of shaving innovation to the U.S. and Canadian marketplace, including the world's first 7 blade shaving system, as well as the innovative and patented common docking feature. For a comprehensive look at the premier line of Dorco's razors, systems and cartridges, consumers are invited to visit http://www.DorcoUSA.com.
About Lucky Tiger®
In 1935 Lucky Tiger®, an iconic American brand was officially born. As Lucky Tiger®'s popularity and product reputation spread, barbers across America began using and selling the entire range of Lucky Tiger® products: shaving creams, mustache waxes, shampoos, hair dressings, hair tonics, hair waxes, face cleansers, skin astringents, face lotions, cleansing masks, acne preparations and tooth whitening powders. In the coming years Lucky Tiger® became the most popular brand of men's grooming and barbershop products in America. The coming decades were a great time for Lucky Tiger®. As time went on Lucky Tiger® expanded its products to include premium products for home use. As men look for products to round out their grooming they can count on Lucky Tiger® to provide the ultimate products and a top quality grooming experience. After all, Lucky Tiger® has been around for decades perfecting the products and keeping men happy and looking great. Lucky Tiger® looks to provide men with the best products every time. Lucky Tiger® believes that a man can do anything with the right look, and when he feels his best. Lucky Tiger® knows that men who Look Good, Get Lucky!
####