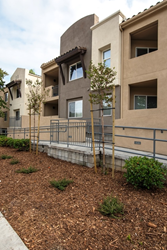 Ventaliso Apartment renovations secure the longevity of the building as well as provide quality, affordable housing for residents.
San Marcos, CA (PRWEB) October 07, 2016
Alongside City of San Marcos Mayor Jim Desmond and City Council members including Vice Mayor Rebecca Jones, Affirmed Housing will celebrate the grand re-opening of Ventaliso Apartments on Thursday, October 6 at 9:00 AM. Renovations will lower Ventaliso's carbon footprint and serve to ensure the longevity of the community as efficient and up to date.
Located at 609 Richmar Avenue in San Marcos, Ventaliso is a 48-unit affordable housing development consisting of a mix of one, two, and three bedroom apartment homes offered to individuals and families earning 30-60% of San Diego County's Area Median Income. Originally constructed in 2001, Affirmed began to revamp the community in the spring of 2016. Renovations include exterior paint, refurbishing of the community room, community tot lot, all new drought tolerant landscaping, and upgraded security measures for residents. Each unit has been extensively renovated including new flooring, paint, and all new energy efficient appliances. The building has also undergone upgrades to improve ADA access.
Project partners include BASIS Architects & Planners, general contractor HA Builders, civil engineer Masson & Associates, Inc., and landscape architect Darsono Design Associates. Financing partners include Bank of America, Boston Capital, CCRC, the City of San Marcos, TCAC & CDLAC, and the County of San Diego.
James Silverwood, President of Affirmed Housing, states, "One of Affirmed's core values is sustainability. We think it is important to apply our values not only in the homes we build from the ground up, but also to acquired and long-held properties in our portfolio, such as Ventaliso. By modernizing Ventaliso, we expand the longevity of the development as well as the comfort of our residents."
Headquartered in San Diego, Affirmed Housing is dedicated to improving and sustaining the viability of California through the development of affordable housing. For more information, visit http://www.affirmedhousing.com.
###