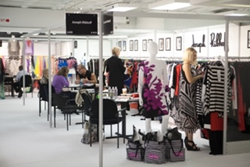 Atlanta, GA (PRWEB) October 05, 2016
Atlanta Apparel presents its largest overall tradeshow to date with a trendsetting international collection of women's and children's apparel, accessories and shoe lines showcasing new introductions for Spring/Summer 2017 at the October Atlanta Apparel Market (showrooms October 6-10, 2016, temporaries October 6-9, 2016). The Market offers the most tradeshow booths ever – 14 percent larger than the October 2015 Market and 44 percent larger than October 2014.
Atlanta Apparel's consistent tradeshow growth is fueled by new and expanded collections across all categories including Premiere® Contemporary, Now! Young Contemporary, Ready! Ready-To-Wear, JFA: Jewelry and Fashion Accessories, Impulse: Cash & Carry, Premiere® Luxe, and a largest-to-date Shoe Studio with a record number of exhibitors including Chinese Laundry, MIA Shoes, Hush Puppies, Naughty Monkey/ Not Rated, Consolidated Shoe Co. and more.
The Québec Ministry of Economy, Science and Innovation, in collaboration with the Québec Trade Office in Atlanta, once again organizes the Montréal Collections Fashion Show on Friday, October 7 at 6:15 p.m. The celebration of Atlanta Apparel's international reach showcases top designers from Quebec with entertainment by celebrated Québécois dance group DM Nation.
In addition to the Spring/Summer season, Atlanta Apparel buyers have the opportunity to explore the Resort season with a curated collection of more than 30 Resort lines including Walker & Wade, All for Color, Jack Rogers, DEI, Gretchen Scott Designs and Lisi Lerch.
The celebrated permanent collection continues to grow with new showrooms Judith March, Agent Icon, Yolanda Armendariz/ Angela R White, Style New York-Paris, Design Today's, Moonlight and Socks N Socks and an expanded showroom space for Gold N Diamonds.
Looks from the permanent and temporary collections are showcased in a series of runway events, including the Atlanta Apparel Fashion Show on Thursday, October 6 at 6:15 p.m. and the lively Daily Strut series including:

NEW EXHIBITORS. Fresh looks from Atlanta Apparel's newest collections. THURSDAY, OCTOBER 6, 3 P.M.
GRACIA. Innovative styles that inspire fashion trends and gain the admiration of stylish women around the world. FRIDAY, OCTOBER 7, NOON.
YOUNG CONTEMPORARY. Flirty looks for fabulous juniors and young contemporary fashionistas. FRIDAY, OCTOBER 7, 3 P.M.
PERMANENT SHOWROOMS AND CONTEMPORARY TRENDS. The best looks for Spring 2017 from Atlanta Apparel's permanent collection. SATURDAY, OCTOBER 8, NOON.
PREMIERE, LUXE AND RESORT COLLECTIONS. The lines that everyone dreams are showcased in this high-end and luxurious runway. SATURDAY, OCTOBER 8, NOON.
READY TO WEAR AND ACCESSORY TEMPORARIES. Fashionable finds for the updated missy woman's every occasion showcased with complementary accessories. SUNDAY, OCTOBER 9, 11 A.M.
For more information about the October Atlanta Apparel Market, please visit https://www.americasmart.com/pages/market-october-apparel.html.
ABOUT AMERICASMART
AmericasMart Atlanta is the nation's only global wholesale marketplace housing the world's single-largest collection of home, gift, area rug and apparel merchandise. The largest of AmericasMart's 14 annual Markets and shows, The Atlanta International Gift & Home Furnishings Market and The Atlanta International Area Rug Market in January and July are the ignition switch for global retailing with buyers from every U.S. state and as many as 70 countries discovering product in more than 1,500 showrooms and more than 3,000 temporary exhibiting companies. ICON HONORS, the home and gift industry's most celebrated recognition program, is produced and staged annually by AmericasMart.
Located in downtown Atlanta, the AmericasMart complex contains more than 7.2 million square feet of space. It's a huge global stage on which manufacturers, designers and sales representatives unveil new lines, launch new designs and introduce new categories – all for the benefit of buyers seeking all that is fresh and first in the home, rug, gift and apparel arenas. For more information, please visit http://www.AmericasMart.com. Follow us @AmericasMartATL or @AtlantaApparel.
###