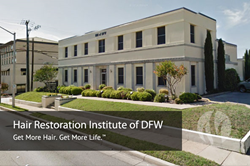 Fort Worth, Texas (PRWEB) October 07, 2016
Hair Restoration Institute of DFW Provides Quality Beard Transplants in Time for No-Shave November.
HRI of DFW provides hair transplants not only for the top of the head, but for other areas of the face as well. Every hair transplant candidate has unique needs; facial hair needs are a common request. At Hair Restoration Institute of DFW, we use the latest in medical transplant techniques to create, via hair grafts, a masculine full beard, mustache, or side burns. Using the FUE (Follicular Unit Extraction) Method we extract one follicle at a time from the donor area and replace it in recipient sites, leaving virtually no scar in the harvesting area. To achieve a full beard, mustache, or side burns, this procedure is very desirable with little discomfort or downtime.
Dr. Jesse E. Smith, MD is a Board Certified Plastic Surgeon, a member of the International Society of Hair Restoration Surgery, and specializes in head, neck, and facial restoration for cancer patients. For over twelve years he has dedicated a significant part of his practice to the team of hair technicians who work beside him specializing in hair transplantation. Our on-site surgery suite is in downtown Fort Worth and has local ties to the hospital district.
HRI of DFW is pleased to bring awareness to beard transplants. "A full beard can help build an individual's confidence who is looking to maximize their masculine appearance. Here at HRI we are passionate about restoring hair and confidence!" said Shelly Beatty, Director at Hair Restoration Institute of DFW.
About Hair Restoration Institute of DFW: Hair Restoration Institute of DFW has been in business for over 30 years, providing all of our clients with the latest advances in male and female hair loss treatment solutions. From hair replacement solutions to hair restoration solutions, HRI of DFW is a recognized leader in multi-therapeutic hair replacement for men and women suffering from all types of Alopecia, male pattern balding, female pattern balding and all forms of thinning hair.
Hair Restoration Institute of DFW is a full service hair loss treatment, replacement and restoration center, providing both surgical and non-surgical hair restoration and replacement solutions.