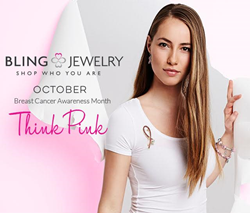 Bling Jewelry's philanthropic passion shines as bright as their products.
(PRWEB) October 06, 2016
Bling Jewelry (http://www.BlingJewelry.com) is more than an ecommerce jewelry destination. The company's philanthropic passion has become clear over the past month through campaigns with The Breast Cancer Research Foundation and The Humane Society of the United States, proving their generosity shines as bright as their products.
Bling Jewelry has continuously used their voice to lend a hand to significant causes. "Supporting charity is an integral aspect of our company," explains Bling Jewelry CEO and Founder Elena Castaneda. "It is extremely important for us to use the Bling Jewelry platform to spread awareness and give back to our favorite causes."
Breast Cancer Awareness Month commenced on October 1st and Bling Jewelry prepared a gracious demonstration to show their support. The retailer encourages shoppers to "Think Pink" in pink ribbon jewelry because 20% of all sales from their Cancer Awareness page will be donated to The Breast Cancer Research Foundation through October 31st. Further, Bling Jewelry will match that donation dollar for dollar. Elena Castaneda is a long time supporter of The BCRF.
The online retailer frequently voices its support for their furry and not so furry friends. During September, Bling Jewelry donated 15% of all sales from their Animal Jewelry collection to The Humane Society of the United States. With Bling Jewelry style icon, Sasha the Fab Frenchie, as its fashionable spokesperson, the company urges its customers to "make more than just a fashion statement" in animal jewelry pieces.
ABOUT BLING JEWELRY
Bling Jewelry is the ideal online destination for stylish, high-quality jewelry. With thousands of unique styles in stock, their products appeal to a wide range of trendsetters. With a clever eye on the trends, Bling Jewelry hones in on what fashion dictates and what people fall in love with and buy. Bling Jewelry is an Internet Retailer Second 500 company and Inc. 5000 honoree.