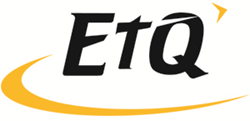 It's an honor to have been named a winner by Golden Bridge Awards for this esteemed industry and peer recognition
(PRWEB) October 05, 2016
EtQ today announced it has earned the prestigious silver status in the Golden Bridge Awards for its Traqpath product. EtQ won in the "Cloud Computing/SaaS/Internet" category.
The coveted annual Golden Bridge Awards program encompasses the world's best in organizational performance, innovations, products and services and more. Organizations from all over the world are eligible to submit nominations including public and private, for-profit and non-profit, largest to smallest and new start-ups.
For more than 20 years, EtQ has been helping Quality, Compliance and Environmental Health and Safety organizations achieve operational excellence through automation, integration and collaboration. EtQ launched Traqpath in 2016 as a free app to enable users to conduct simple quality and compliance tracking activities for events affecting their business, by leveraging either their mobile device or a Web browser.
"It's an honor to have been named a winner by Golden Bridge Awards for this esteemed industry and peer recognition," said EtQ's Chief Executive Officer, Glenn McCarty. "EtQ is committed to providing solutions that will improve quality, increase safety and ensure compliance for organizations of all sizes. This award is a testament to that. We are pleased to accept this award for our Traqpath app and we congratulate the other Golden Bridge Award winners."
Learn more about EtQ's Traqpath product by visiting http://www.traqpath.com or blog.traqpath.com.
About the Golden Bridge Awards
Golden Bridge Awards are an annual industry and peer recognition program honoring best companies in every major industry from large to small and new start-ups in North America, Europe, Middle-East, Africa, Asia-Pacific, and Latin-America, Best New Products and Services, Best Innovations, Management and Teams, Women in Business and the Professions, Case Studies, Customer Satisfaction, and PR and Marketing Campaigns from all over the world. Learn more about The Golden Bridge Awards at http://www.goldenbridgeawards.com
About EtQ
EtQ is the leading Quality, EHS, Operational Risk and Compliance management software provider for identifying, mitigating and preventing high-risk events through integration, automation and collaboration. At the core of EtQ's framework is a compliance management platform that enables organizations to implement best-in-class compliance processes configured to meet their existing processes, create new compliance processes and automate and control their compliance ecosystem. EtQ's product lineup includes Traqpath™ for individual compliance users, VERSE Solutions™ for small to medium sized businesses and Reliance™ for enterprise organizations. EtQ was founded in 1992 and has main offices located in the U.S. and Europe. To learn more about EtQ and its various product offerings, visit http://www.etq.com or blog.etq.com.
EtQ is a trademark of EtQ Management Consultants, Inc. All other product names and company names are trademarks or registered trademarks of their respective owners.