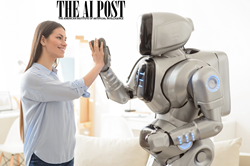 With the goals of safety and equity – our governance model is designed to be the world's first and most comprehensive governance platform for artificial intelligence
Washington DC (PRWEB) October 06, 2016
The American Institute of Artificial Intelligence is announcing the launch of the world's first and most comprehensive Artificial Intelligence Governance Model and product.
Built by performing comprehensive literature reviews and analysis from several fields (Political Science, Sociology. Economics, Philosophy, Computer Science, Ethics, Theology, Law, Communications, Business, Finance, Neuroscience, and many others), the AI Governance Model is designed to address thousands of data points through multi-dimensional analysis.
To address public concerns, improve safety of humans, create transparency, and achieve social good and regulatory compliance, the model can be used by different types of entities including small, medium and large companies, government agencies, institutions and others.
"Recent research indicates that more than half of UK adults are worried about robots. Our top intellectuals and leaders have warned us that artificial intelligence can pose a serious threat to humankind. Even the White House is concerned and has organized various conferences on the topic. At the American Institute of Artificial Intelligence, we believe that the best way to advance artificial intelligence is to do it responsibly. The AI revolution is by far the greatest change in the history of human civilization and should be approached with the same respect and consideration as we approach nuclear technology and climate change." said Al Naqvi, president of the American Institute of Artificial Intelligence. "We have designed our governance model to alleviate those concerns and to manage and govern the introduction of artificial intelligence in human civilization with confidence. With the goals of safety and equity – our governance model is designed to be the world's first and most comprehensive governance platform for artificial intelligence," he added.
The American Institute of Artificial Intelligence (http://www.aipost.com) is a Washington, DC based entity. "The productized governance framework can now enable companies and agencies that use and develop artificial intelligence products to meet the high safety and wellbeing standards of their customers, users, employees, suppliers, other stakeholders, and general public," Mr. Naqvi added.
Al Naqvi is leading the initiative. In addition to having information technology background, Mr. Naqvi has served in executive level governance roles including CFO of a healthcare system (Illinois Health and Science) and Chief Procurement Officer of one of the world's largest power companies (AES). Mr. Naqvi also specializes in governance for complex industries including molecular imaging and nuclear medicine.
ABOUT THE AMERICAN INSTITUTE OF ARTIFICIAL INTELLIGENCE
The American Institute of Artificial Intelligence is a Washington DC based firm focused on artificial intelligence governance. The Institution publishes http://www.aipost.com, a governance focused publication for artificial intelligence. The publication is designed to bridge the gap between academic research and general public understanding of artificial intelligence.