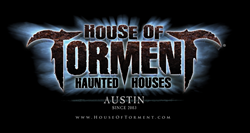 Austin, Texas (PRWEB) October 07, 2016
House of Torment's new 40,000 square ft. horror-themed entertainment complex (twice the size of it's previous site) has officially kicked off the Halloween season with a record-setting launch and two, national list-topping rankings. The soft opening weekend drew in record breaking crowds, seeing an increase of over 20% - the largest number than any opening weekend in the haunted house's 14 year history. The home grown and operated, indoor/outdoor haunted house facility at 183 and 290 east has also been acknowledged as the number one must see haunted attraction in the country by both Haunt World Magazine as well as HauntedHouses.com.
With intentions to uphold their prestigious title, of the scariest place in the land, House of Torment this weekend will be opening their new venture MindSpark. Conveniently located next door MindSpark is the complex's new and innovative themed escape room attractions. Marrying industry leading details and conundrums with House of Torment's signature psychological thrills paired with costumed actors, each of the four rooms is themed with new and never before seen scenarios, featuring serial killers, zombies and the great illusionist Houdini—with the last mystery room, being the first experience to use virtual reality in Texas.
A special media night will be held Thursday, October 13. High-res photos of the first visitors to House of Torment and MindSpark are now available upon request.
About House of Torment
Austin's multi-layered, psychological thrill, House of Torment, is most comparable to a trip through a modern horror movie with hauntingly detailed sets, towering animatronic monsters, iconic characters and chilling scenarios. The attraction's immense popularity stems from the genuine and fervent obsession of its creative team and production staff that work on the haunted house full-time and year-round. House of Torment, now in its 14th year of operation, is the brainchild of two native Austinites, Jon Austin Love and Daniel McCullough. Jon and Dan, along with their two Denver-based partners, own Thirteenth Floor Entertainment Group, which produces nine of America's largest haunted house events including House of Torment in Austin. http://www.houseoftorment.com
###