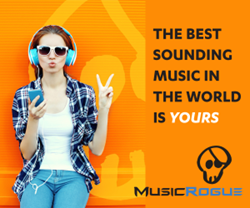 Most consumers will spend 1.2 years of their lifetimes on hold
Sacramento, CA (PRWEB) October 11, 2016
Users are buzzing about the new music service MusicRogue. So much so, that Discovery Channel's NewsWatch caught wind and contacted MusicRogue to do a feature. This proves that customers would rather listen to their favorite tunes on their mobile devices or Spotify than the canned hold music companies' use. Most consumers will spend "1.2 years of their lifetimes on hold" while arguing over a utility bill, insurance claim, or call to the government.
Even though companies say "your call is very important to us," it's not unusual to spend an average of 15 minutes or more on hold being subjected to the latest distorted, instrumental, soft jazz remakes. It doesn't have to be this way with MusicRogue.
Rather than endure awful music or repetitive advertising, users choose their own high-quality tunes or even silence, if preferred. All users need to do is download the free MusicRogue app, verify the users' phone number, and sync the music on the phone. Then just dial through the app. When placed on hold, the music from the users' library or Spotify starts playing. A visual indicator on the screen shows connection status. And if users choose, they can manually return to the call at any time and listen in.
Users won't lose their spot in line because of a dropped call. MusicRogue's smart algorithm returns users to their call the second a customer service representative is ready to assist.
In a highly technological world, most smartphones have good digital fidelity that improves with each new release. The on hold experience passes more quickly and pleasantly with music from users' favorite artists in digital fidelity. The app is available for free on IOS devices. You can download it from the app store, or go to http://www.musicrogue.com for more information.
Here's what users are saying about MusicRogue on the Apple Store:
"This is a great way to deal with those annoying companies who love to put you on hold for 30 minutes! With the right promotion and advertisement this could be the next big household name!"
-- logan_hunter8
"I just used this app for the first time. I am not tech savvy but was able to negotiate it and listen to my own music while on hold. Thank you for this app." -- Dani Matthies
"Put on hold had never been this fun! :D it is really simple, works as described with no intrusive ads or junk. Solves a wonderful problem of crappy hold music! Thanks to MusicRogue! -- Bleachp
"My new favorite app for music." -- Chiara_ferrangni
"This app is great for life in Japan – THE land of being kept on hold. And for ages!! Drives me NUTS! This app is gonna save my sanity. Thanks developers!! I also love that I can play tunes offline. Great work!" -- Joy appleseed