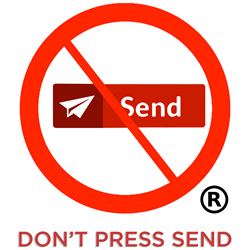 New York, NY (PRWEB) October 10, 2016
October marks National Bullying Prevention Month and according to recent stats*, an astounding 77% of students have been bullied verbally, mentally, and/or physically. Daily about 160,000 students miss school because of bullying or due to the fear of being bullied, and every 7 minutes a child is bullied on the playground.
According to Katie Schumacher, author and founder of the Don't Press Send campaign, with the significant growth of social media over the last few years, bullying has evolved to a frighteningly greater level. In the past, children could avoid situations, take different routes, or change schools, but today bullies have access to their victims 24/7 through social media, mobile phones, and anonymous apps.
Katie is a strong believer that change starts at home, and parents need to provide their children rules when they give them their cell phones and guidelines on how to use social media. Katie shares her top five tips to help families work together to create a safer, kinder cyber community:
For Parents…
1. Remind your child about the three R's: rules, respect, and responsibility
2. Understand that the barrier of the screen causes emotional disconnect
3. Teach your child the difference between a friend and an acquaintance
4. Help children understand the impact and permanency of the written word
5. Discuss the social and legal repercussions of sexting
For Kids…
1. If you can't say something to someone's face don't write/post it
2. Don't take videos or photos of others and/or post them online without permission
3. Understand the dangers of the "like" button and don't use it for validation
4. Be mindful and empathetic, and understand the written word's power
5. Avoid using anonymous sites and apps
"It is my goal to help parents and children by offering guidelines that they can use to navigate the cyber community and make it a better place for everyone involved," said Katie Schumacher, Author and Founder of Don't Press Send. "National Bullying Prevention Month is a reminder of how much the issue has evolved and now is the time for us all to unite together to help our children."
To spread the impactful message, Katie published her first book this past summer. Titled Don't Press Send: A Mindful Approach to Social Media, An Education in Cyber Civics, the book provides insights for creating a clear, kind approach to using social media.
To learn more about the campaign and book, please visit: http://www.DontPressSend.org
ABOUT KATIE SCHUMACHER
Katie Schumacher has used her years as a teacher, her mindfulness training, and her on the job experience as the mother of three teens to develop the Don't Press Send campaign and the popular app by the same name. As a frequent lecturer, she has been able to spread the message of kind and careful communication to thousands of students, parents, and educators, inspiring them to incorporate a mindful approach to social media. In July 2016, Ms. Schumacher penned her first book, Don't Press Send: A Mindful Approach to Social Media, An Education in Cyber Civics, to give parents the tools and strategies they need to arm their children to create a better cyber community. For more information about the Don't Press Send book and initiative, please visit http://www.DontPressSend.org.
# # #
*Stats: https://www.google.com/webhp?sourceid=chrome-instant&ion=1&espv=2&ie=UTF-8#q=percentage+of+kids+bullied+in+US