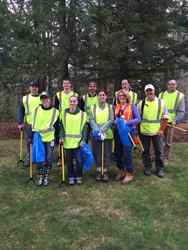 Giving is fundamental to who we are. It is our mission and our nature. It is the culture of Cirtronics.
Milford, NH (PRWEB) October 14, 2016
Cirtronics is not a typical contract manufacturer. The Corporation was born in 1979 with the vision that a corporation can extend beyond itself to truly serve its customers, employees and suppliers, as well as the environment and the community. Cirtronics has always been guided by the principle that "who we are is as important as what we do", and truly serving the community and the environment have always been core tenets in Cirtronics' culture.
 
"Giving is fundamental to who we are," says Gerardine Ferlins, President / CEO, Cirtronics. "It is our mission and our nature. It is the culture of Cirtronics."
 
Ferlins continues, "We look for ways to serve with our time, our space and with financial support. We aim to make meaningful contributions through drives and volunteerism. And we seek organizations whose missions align with our culture and values of commitment, giving and going the extra mile. We choose to work with organizations that make a significant impact on the community through their services".
Obviously, there is an immediate and positive impact on local organizations when local companies reach out to provide support, volunteer time, and resources. There is also a growing awareness of the importance of a service culture, the awareness of interdependence, that goes well beyond the desire to be charitable or to benefit the company's bottom line. A corporate culture of giving and service is about creating and sustaining healthy communities through sharing resources, lifting everyone in tangible and lasting ways. From transitioning away from plastic tableware, to taking part in highway cleanups, providing paid volunteering hours to all employees, to providing space for the local robotics team, Cirtronics continues to look for ways to serve that are important to the community, to the environment, and to the culture of the corporation itself.
In fiscal year 2016, Cirtronics is honored and humbled to have been able to support organizations such as Milford Boy Scout Troop 4, End 68 Hours of Hunger, Nashua Soup Kitchen, Nashua Children's Home, Child & Family Services, SHARE, Boys & Girls Club of the Souhegan Valley, and the NH Food Bank.
 
To support other organizations in following a similar path of giving and service, Cirtronics is a member of New Hampshire Businesses for Social Responsibility, a non-profit organization dedicated to fostering the growing and important connection between New Hampshire-based businesses and the communities in which they reside—celebrating doing well by doing "good".
Combining over 37 years of manufacturing experience with cutting edge technical capabilities, quality-mindedness, and a dedication to cultivating proactive and positive customer relationships through Precision Engagement®, Cirtronics is in the business of building a stronger community as well as products.
Cirtronics is a locally owned and operated contract manufacturer for electronics, electro-mechanical assemblies and box builds for a wide range markets including med/tech, robotics, communications, aerospace, military, security, industry, and others. Cirtronics is an Employee Owned Company (ESOP) and qualifies for US government woman-owned and small business status (WBENC certified WBE & WOSB). To learn more about Cirtronics, Precision Engagement® and Cirtronics' culture of service, call 603-249-9190 or visit our website http://www.cirtronics.com.