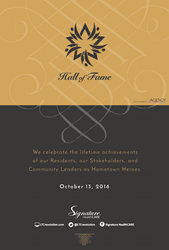 They are farmers, teachers, business leaders, homemakers, public servants and citizens in the fabric of our society. We recognize their beauty and brilliance..." says Dianne Timmering, Spirituality Co-Founder
Louisville, Kentucky (PRWEB) October 11, 2016
Signature HealthCARE will induct over 480 residents, stakeholders, volunteers, and community leaders into SHC Hall of Fame on Oct. 13, in 117 Signature facilities across 10 states.
The Hall of Fame is an innovative Quality of Life Program developed by Signature HealthCARE to honor the lives and accomplishments of our residents, stakeholders, volunteers, and community activists who have impacted our centers, communities, and nation.
We've inducted World War II Veterans, a former PGA Professional, a former Secret Service Agent for President George H. W. Bush, and many more distinguished individuals.
The first Hall of Fame took place in April 2004 at Sutton Place in Palm Beach, FL, where 8 residents were inducted into the legacy of what has now become a company-wide national event with thousands of recipients over the last decade.
"The Hall of Fame originated because we got so close to our elders and we would hear their touching and amazing stories; we wanted a way to make sure that no story would ever be lost, even in passing. It is a true celebration of life honoring them, and their impact on family, community and our nation!" said Joe Steier, President and CEO.
"Our people at times go unnoticed and people forget their bravery in building their communities and defending our nation. They are farmers, teachers, business leaders, homemakers, public servants and citizens in the fabric of our society. We recognize their beauty and brilliance; this is just a more formal way to memorialize their greatness!" says Dianne Timmering, Spirituality Co-Founder.
Local ceremonies feature celebrity speakers and presentations about the inductees' lives and accomplishments.
To view inductees or obtain a list of all participating facilities, please visit http://www.shchalloffame.com
About Signature HealthCARE
Signature HealthCARE is a family-based, long-term health care and rehabilitation company with locations in 11 states, and has more than 20,000 employees nationwide. The company's organizational culture is founded on three pillars: Learning, Spirituality and Innovation. A growing number of Signature centers are earning five-star quality ratings, the highest classification from the Centers for Medicare & Medicaid Services. The company was nationally recognized as "Best Places to Work" by Modern Healthcare in 2013 and 2015. For more, visit ltcrevolution.com.
###