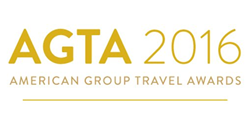 2015 was an exciting year in North American group travel and we look forward to honoring individuals and suppliers who are true innovators in the industry
New York, NY (PRWEB) October 10, 2016
The American Group Travel Awards (AGTA), being held on November 14th in Diamond Horseshoe Theatre at the Paramount Hotel in New York City will recognize the finest suppliers in the group travel industry.
There is still time to vote for your favorite group travel organizations at http://americangrouptravelawards.com, the deadline to vote is Saturday, October 15th. Click on the "Vote Now!" link featured on the site's homepage to submit an entry. There are 23 outstanding award categories this year recognizing the best operators delivering the highest quality of group travel services and experiences. Categories range from hotels to cruise lines, ground transportation to city destinations, and more.
Dylan Ratigan, Television news journalist for CNBC, former MSNBC television host, and New York Times Best-Selling Author, will host the third annual black-tie event. Guests will be entertained by lively performances from Queen of the Night with music provided by New York native DJ Dalton and an exclusive after party not to be missed.
"2015 was an exciting year in North American group travel and we look forward to honoring individuals and suppliers who are true innovators in the industry," said Tim Hentschel, CEO of HotelPlanner.com.
Sponsorship for the event is also being provided by hospitality and travel leaders Best Western, Choice Hotels, Hilton Worldwide, Hotels.com, and Wyndham Hotel Group, including Las Vegas and SuperShuttle, among the 19 sponsors this year who are proud supporters of the group travel industry.
The AGTA winners will be announced on-stage at the awards. No one is notified about the voting outcome beforehand.
For more information on this event, please contact Bruce Rosenberg at (818) 661-0244 or via email at Bruce.Rosenberg(at)AmericanGroupTravelAwards(dot)com
About HotelPlanner
HotelPlanner.com provides group hotel booking services to 3,000 groups per day representing $3.2 billion a year in RFP's within the $192 billion global group travel market. The company's group hotel booking service ensures the lowest rates by allowing customers to receive quotes online directly from hotel group sales managers. HotelPlanner allows customers to book hotels for business meetings, conferences, conventions, family reunions, weddings, extended stays, tours, military reunions, church events, and group travels. The company also provides mobile applications for booking group hotel reservations. The company owns and operates Meetings.com, a site that provides information, planning and booking services for group, meeting, and individual hotel stays for the corporate, associations and business to business enterprises. With a mission statement geared towards, "Bringing People Together," HotelPlanner & Meetings.com are the global experts for hotel sourcing, providing direct clients and market leading affiliates with unmatched group and event discounted room rates plus localized service levels not available at other travel companies. Founded in 2002, the company has offices in London, England (European Headquarters), Hong Kong (Asian Headquarters), West Palm Beach, FL (USA Headquarters), and Las Vegas, Nevada.