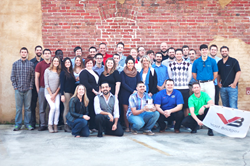 "This milestone belongs to our incredible team members and is a testament to their talent and drive."- Kevin Conner, Vast Bridges CEO and Founder
Jacksonville, FL (PRWEB) October 10, 2016
Vast Bridges, a national customer acquisition company founded in 2010, was ranked number 1615 on the 2016 Inc. 5000 list of America's Fastest-Growing Companies. The award recognizes top producing, privately owned companies in the U.S. based on growth over a three year period. Vast Bridges was able to secure this spot by increasing average annual revenue by 233% from 2012 to 2015.
Vast Bridges' success can be linked to their CEO and founder, Kevin Conner, and his vision for the company. He inspires a culture that allows for innovation and collaboration to help deliver superior results to the brands Vast Bridges represents. Through a combination of cutting-edge marketing and sales strategies, Vast Bridges continues to redefine the standards for customer acquisition marketing.
"Vast Bridges is honored to be included on the Inc. 5000 list as one of the fastest growing private companies in America. This milestone belongs to our incredible team members and is a testament to their talent and drive. We are also thankful for the critical role our brand partners have played in our growth," says Conner.
Although this is Vast Bridges first time on the Inc. 5000 list, they are no stranger to being recognized for their hard work. The company was awarded by the Jacksonville Business Journal for three consecutive years as one of the best places to work in Jacksonville and one of the fastest growing companies in Northeast Florida. They were also voted Bold City Best Place to Work: Medium Business in 2015. Vast Bridges prides itself on being an integral part of the Jacksonville community through charitable donations and volunteer work. One example of their philanthropy was a record donation of $10,000 to Spirit Dining, which helps support local schools and organizations.
The Inc. 5000 list was started in 1982 and is considered to be one of the most prestigious awards within the private sector. For more information regarding Vast Bridges, please visit their website.