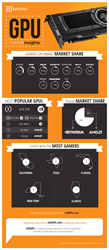 Columbus, Ohio (PRWEB) October 06, 2016
Today, SellGPU.com, a tech firm that purchases graphics cards and CPUs directly from consumers, has confirmed that it has released an up-to-the-minute infographic detailing the latest trends in the vibrant graphics card sector.
SellGPU's new infographic illustrates the market shares of the world's top gaming related graphics card companies. It also serves to assist newsmakers in identifying the key PC gamer States in America. The data is extracted from requests for trade-in over the period of the past six months.
"Our team is delighted to share these vital GPU market insights via an infographic," asserted Said Hafez, Founder and Chief Executive Officer (CEO), SellGPU.com. "We're excited to maintain our reputation as a trusted hardware trade-in brand."
Key categories and statistics outlined in the infographic include the overall market share of the main gaming GPU brands, a list of the most popular GPUs, chipset market share findings, and the States which have the most gamers with the Golden State of California leading the field.
The free to share infographic can be found here.
About SellGPU.com:
Since 2014, SellGPU.com has revolutionized the graphics card industry through the buying of GPUs directly from consumers with a fast, easy-to-use, and zero-risk program. To receive an instant quote for your used GPU in a simple 3 steps to payment process, visit: http://www.sellgpu.com/
Media Contact:
Said Hafez
SellGPU.com Founder & CEO
Email: info(at)sellgpu(dot)com