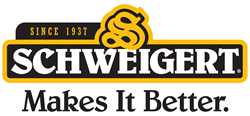 We still make the sausage the old-fashioned way.
MINNEAPOLIS, MINNESOTA (PRWEB) October 05, 2016
With nearly 80 years of success behind its products, Schweigert Meats announced today a partnership to be the provider of hot dogs at all Minnesota Vikings home games and for public events in the new U.S. Bank Stadium in downtown Minneapolis.
Mike Bakalars, owner and president of Schweigert in La Crosse, Wis., said the two-year agreement with the Vikings dovetails nicely on the calendar with the current partnership it has with the Minnesota Twins and Target Field.
"From a marketing standpoint, it helps with us in the Minneapolis-St. Paul area, in particular, and throughout the Upper Midwest as well," Bakalars said. "Both franchises have a great network and fan base in the same footprint as Schweigert sausage."
John Penhollow, the Minnesota Vikings' vice president for corporate and technology partnerships, explained that Schweigert was an ideal fit for the Vikings as they play their first season in the unparalleled state-of-the-art U.S. Bank Stadium.
"From ownership down, we have consistently focused on providing the best possible game day experience for our fans," said Penhollow. "That experience includes having high quality food and beverage options, and we certainly believe Schweigert hot dogs fit in that category."
Schweigert has been serving its all-beef hot dogs at U.S. Bank Stadium since the first events in July, the Vikings preseason games and the two regular season games.
While the Vikings and Green Bay Packers were renewing their rivalry in the regular season home opener, Bakalars said, more than 30,000 of his Schweigert hot dogs were sold–the standard-sized all-beef variety and a foot-long selection. Schweigert products are available at most grocery stores and all Kwik Trip outlets in the region.
And just as the stadium itself is first-class, Bakalars said it made sense that the Vikings would pursue the same quality with his hot dog, one of the most classic of food offerings in the history of American spectator sport.
"We still make the sausage the old-fashioned way," Bakalars said. "We use hardwood smoke, rather than liquid smoke. We need to give the consumer a good quality product for a competitive price, and that translates into quality and value. That's why the Schweigert brand has survived since 1937."
About Schwigert Meats:
Ray Schweigert opened his first retail store, specializing in fresh and cured meats, in north Minneapolis in 1937. His goal was simple: make the best tasting and highest quality meats. Today, that tradition continues under the direction of the longtime family owned Bakalars Sausage Co. of La Crosse, Wis. In 2012, Bakalars earned several international awards for its products at the IFFA in Frankfurt, Germany. To learn more, visit http://www.schweigertsmeats.com and http://www.bakalarssausage.com, call1-608-784-0384 or e-mail info(at)bakalarsausage(dot)com.
# # #