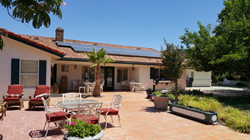 The panels will be a valuable investment for years to come.
Atascadero, Calif. (PRWEB) October 28, 2016
–Atascadero assisted living facility Paradise Valley Care has announced that they have made an effort to, "go green," with the installment of new solar panels at their assisted living facility.
"We are very excited about the additional of solar at our facility," says owner Ilija Vrajich of Paradise Valley Care. "The panels will be a valuable investment for years to come."
Another new addition to the facility in Atascadero is a brand new 15-passenger bus allowing for easier travel and increased outings for clientele. The new bus allows greater safety and more clients are able to enjoy event expeditions at a single time and in greater comfort.
Paradise Valley Care is dedicated to serving the needs of their residents with care and compassion and these new advancements are two ways that they demonstrate that dedication.
About Paradise Valley Care Atascadero assisted living facility
Since 1999, Paradise Valley Care has been serving the elderly community of Atascadero's assisted living needs. The establishment is founded, owned and operated by the Vrajich family. The facility has a homey atmosphere, a pristine clean environment, and ensures gratifying living conditions for clients. Staff members provide clients with a feeling of "being right at home," and family members reassurance that their loved ones are respectfully watched over and cared for.
Below are some of the benefits of Paradise Valley Care:

Professionally trained and qualified staff
Activities Director
Dementia prepared settings
Social activities
Hospice service
Bed ridden waiver
Social, mental, and physical activities
Since food is of the utmost importance in client ability to remain healthy and vibrant, the establishment provides assisted living with wonderful meals. Professional and skilled dietitians create menus specifically for the clientele. Breakfast, lunch, dinner and snacks are available at all times. Special or personal culinary desires may always be met.
Paradise Valley Care recognizes the importance of remaining at home if a full service establishment is not necessary, so they also provide in-home care for those people that are not dependent on full care service.
Paradise Valley Care is located at 9525 Gallina Ct. Atascadero, CA 93422
For more information call (805) 468-4141 or visit http://www.paradisevalleycare.com/
Hours are:
Sun. – Mon. 8 a.m. – 5 p.m.
Paradise Valley Care is a licensed care facility.
Paradise Valley Care
9525 Gallina Ct.
Atascadero, CA 93422
(805) 468-4141