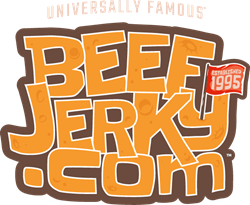 Houston, TX (PRWEB) October 07, 2016
Three members of the Houston Entrepreneurs Organization (EO), Aman Dhuka, Roger Janik and Mark Martin are proud to announce their purchase of Beefjerky.com.
"Sales of meat snacks are more than a billion dollars a year and have been led by only a few very large companies like Jack Links, Oberto and Slim Jim. There is a lot of room for small companies to grow," says Roger Janik, CEO Fair Marketing and co-owner of Man Salt and Fountains.com. "It's already a profitable online business but we plan on completely re-branding and re-launching it, and opening up the retail distribution channels to increase market share. We will go head-to-head with brands like Jack Links and aggressively take-on the beef jerky goliaths."
Gregory Nemitz, founder of BeefJerky.com, had been selling beef jerky on the Internet since 1995, the early days of the Internet. In May 2001, an order from beefjerky.com was shipped to orbit at the request of an astronaut aboard the International Space Station. It has been a staple item on astronauts' in-space menu ever since making it way to space four times. Always pushing delivery boundaries, in January 2004 the first-ever order from beefjerky.com was shipped to Antarctica and today orders are shipped all over the world.
"Beef Jerky started with a great original recipe, then added a few stock recipes from a meat processor," says Aman Dhuka, US Global Fuels. We plan to expand the number of beef jerky flavors to include exotic jerky like pork, buffalo, turkey, elk and alligator."
Beef jerky lovers everywhere including, students, campers, snackers, hunters, fisherman, sports enthusiasts and those in health and wellness, exercise and fitness, can look for a "jerky of the month" subscription model, custom jerky baskets for corporate gifts and the "hard-to-buy-for" person in the coming months.
"With the online, market discovery, operations, strategy and growth expertise the EO trio lends to the brand, even more beef jerky lovers everywhere will be able to enjoy this beloved dried meat snack, says Mark Martin, CEO, 2M Realty Advisors. "Some near-term actions will be to increase the number of distribution channels and purchase a few small competitors to rapidly increase our market share."
# # #
MEDIA CONTACT:
Brad Ginsburg
brad(at)gcomworks(dot)com
646-964-4446