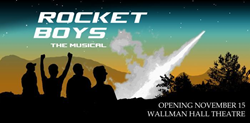 After years of work, Homer and his team were ready to go to Broadway with their award-winning show, but then Universal demanded they shut down and claimed Homer's entire life belonged to them.
New York, NY (PRWEB) October 06, 2016
Homer Hickam, author of "Rocket Boys" which was adapted into the movie October Sky, and the team of writers and composers who developed the Broadway show 'Rocket Boys the Musical' is asking for help to cover legal expenses in a lawsuit with Universal Studios which is owned by COMCAST.
After Hickam and his team developed their award-winning musical and were set to make an off-Broadway run followed by a national tour, court documents show that the giant multi-national corporation allegedly demanded they shut down immediately in favor of Universal (COMCAST)'s own musical titled, 'October Sky the Musical.'
When Hickam resisted, court documents show that Universal (COMCAST) allegedly claimed that all of Hickam's sequels to "Rocket Boys" plus every character in his memoir, including the author himself, belonged to them and he had no rights to use them in any dramatic production, which was based on their alleged interpretation of a 20-year old contract. This had the effect of blocking Hickam's writing career and stopped in its tracks negotiations with movie producers for a film based on his latest best-seller "Carrying Albert Home, the Somewhat True Story of a Man, a Woman, and Her Alligator."
After making its claims, court documents allege that Universal (COMCAST) offered the sequels and characters back to Hickam if he would renounce his musical and accept an alleged gag order for all time.
Instead, Hickam sued Universal (COMCAST) for breach of contract, misappropriation of his name, and fraud. A detailed copy of the full lawsuit can be found online via Deadline.com HERE [article published June 2nd, 2016]. The case was filed in the Superior Court of California, County of Los Angeles on June 2nd, 2016; case number VC622438.
Homer Hickam is a reknown author whose works have been praised and studied in schools across the world. He is also a decorated Vietnam veteran who works with veteran's support orgnizations, is an animal rescue activist, provides scholarships to needy children at four universities in the Appalachian region, a cancer survivor who supports with funding and speeches for the American Cancer Society, and serves without pay on the boards of the Space and Rocket Center (Space Camp) in Huntsville, AL, and the Museum of the Rockies in Bozeman, Montana.
To help Hickam and his team pay their legal fees, an IndieGoGo crowd funding campaign has been started. To assist, please visit the campaign page HERE.