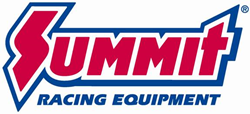 Tallmadge, OH (PRWEB) October 06, 2016
Summit Racing has created Truck Tech White Noize 2010 Chevy Silverado Parts Combos. Based on PowerNation TV's Truck Tech White Noize Silverado project, the combos highlight the parts used in the build.
The Truck Tech guys took a 2010 Chevy Silverado equipped with the trusty 5.3L LS motor and gave the truck some serious oomph without sacrificing any of its practicality or reliability. The goal of the project was to showcase modifications that can be accomplished in a home garage over a series of weekends, allowing the truck to perform commuting duties during the workweek.
White Noize 2010 Chevy Silverado Engine Combo
The 5.3L's valvetrain was modified with COMP Cams pushrods, valve springs, and a rocker arm trunnion upgrade kit. The truck also got MSD coil packs and Deatschwerks fuel injectors. The motor was assembled using Cometic Gaskets, plus ARP and Chevrolet Performance fasteners.
White Noize 2010 Chevy Silverado AFM Deactivation Cam Combo
Though good for fuel economy, Active Fuel Management presents problems for power adders like the turbo kit used on White Noize. The system was replaced with Chevrolet Performance components. A COMP Cams XFI RPM high lift camshaft specifically designed for the variable valve timing systems was also fitted.
White Noize 2010 Chevy Silverado Suspension and Rear Axle Combo
Project White Noize got an aggressive drop thanks to a BellTech lowering kit. The GM 8.6 inch rear end was updated with a new ring and pinion set and yoke from Yukon Gear. An Eaton Detroit True-Trac limited slip differential is an ideal traction match for the extra power of White Noize's modded 5.3L LS.
White Noize 2010 Chevy Silverado Exhaust and Sensor Combo
To help engine breathing, a big four inch Magnaflow cat-back exhaust system exhaust for a Ford 6.0L Power Stroke diesel was modified to fit the Silverado. The Truck Tech team installed an Innovate digital air/fuel ratio gauge kit to keep an eye out for any lean conditions that spell doom for a turbo engine.
White Noize 2010 Chevy Silverado Completer Combo
The new 4L80E transmission is kept at optimal running temperature with an Earl's Performance transmission cooler. Project White Noize can run E85 or gasoline thanks to a Chevrolet Performance flex fuel sensor and harness. An Innovate boost gauge allows the driver to monitor the forced air feeding the 5.3L GM LS.
Installing this engine/modifying a vehicle with these parts might not be emissions-legal in some states—check state and local laws before ordering.
See White Noize Begin on Episode Four of PowerNation TV's Truck Tech
Summit Racing Equipment
http://www.summitracing.com
1-800-230-3030