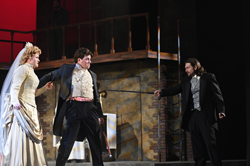 Salt Lake City, Utah (PRWEB) October 06, 2016
Salt Lake Community College's Grand Theatre, 1575 South State Street, Salt Lake City, is hosting the musical production of "Jekyll & Hyde" Oct. 6-29. Call the Grand Theatre Box Office for show times and tickets at 801-957-3322 or visit the theatre's website.
Based on Robert Louis Stevenson's classic thriller, Jekyll & Hyde is the gripping tale of a brilliant mind gone horrifically awry, set to a powerful pop-rock score by Frank Wildhorn with book and lyrics by Leslie Bricusse. In an attempt to cure his ailing father's mental illness by separating 'good' from 'evil' in the human personality, talented physician Dr. Jekyll inadvertently creates an alternate personality of pure evil, dubbed Mr. Hyde, who wreaks murderous havoc on the city of London. As his fiancée Emma grows increasingly fearful for her betrothed, a prostitute, Lucy, finds herself dangerously involved with both the doctor and his alter ego. Struggling to control Hyde before he takes over for good, Jekyll must race to find a cure for the demon he has created in his own mind.
The landmark Grand Theatre is a 1,100-seat venue located at Salt Lake Community College's historic South City Campus, home of the innovative and state-of-the-industry Center for Arts and Media at 1575 South State Street in Salt Lake City. The theatre dates back to the 1930s when it was part of South High School, which SLCC purchased in 1989, a year after the school closed. The Grand Theatre began offering productions that year and has since with great care and expense retained its Depression-era charm and attraction while also incorporating the latest technology in lighting and sound. For the past two years it has been an official screening venue for the annual Sundance Film Festival. Every season the Grand is host to award-winning theatre and dance productions and concerts that attract arts enthusiasts from all along the Wasatch Front.