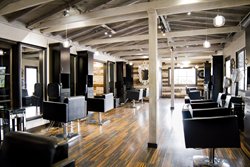 Cielo is the zen beauty retreat for all of your hair and skin needs. Enjoy the finest in products, service and treatments with surroundings that inspire. You will leave feeling refreshed and renewed while looking your absolute best!
Encinitas, CA (PRWEB) October 14, 2016
Cielo Hair Salon and Spa has recently undergone a transformation, unveiling a remodeled luxury garden oasis and a completely renewed interior space. The addition of reclaimed wood, earthy hues and nature-inspired decor compliment the organic aesthetic of the salon and surrounding gardens. The adjacent botanical garden, complete with gazebo, lily pond with koi fish and waterfall, creates a peaceful sanctuary for clients to enjoy when visiting the salon. The recent remodel also adds the smell of rough-hewn wood to the atmosphere while soothing music and bright natural lighting create a tranquil space while the highway traffic and trains race by.
Cielo also recently announced the addition of eco-friendly Australian product line "Evo" to the shelves of the Encinitas salon. Evo hair products are luxurious formulations made from the finest globally-sourced ingredients, the range of products includes all of the regular faces: shampoos, conditioners, treatments, styling and finishing products for all hair types.
Evo is an innovative, professional hair and beauty product manufacturer chosen for its individuality and integrity. Born from a desire to produce an exclusive salon range, Evo steps outside the normal realm of truth-stretching invention in a 'wake up and smell the coffee' crusade of twisted honesty - designed to make people think. And so comes their catch phrase - "saving ordinary humans from themselves™". Inside bottles of Evo are luxurious products that are sulphate, paraben, DEA, TEA and propylene glycol free; products that give professional results while respecting the environment. Evo doesn't use unnecessary, over-marketed ingredients; no imaginary technology, no myths, no gimmicks. All ingredients in Evo formulations are active; nothing is added only to make claims on the label.
Owners Rebecca and Angelina recently celebrated 6 years of business since opening the salon in June of 2010. With business better than ever, they rejoice in re-investing in their Encinitas hair salon. Rebecca and Angelina met in cosmetology school where they studied the art of hair dressing and dreamed of one day owning their own salon together. In 2010, with the support of faithful clients, friends and family, they opened their first salon in the Leucadia neighborhood of Encinitas. The vision for the salon is to provide a truly exceptional salon experience for the whole family. Not only do clients receive the best quality in hair cuts and services, they also receive superior service from the moment they walk through the doors of the salon. Men, women and children are all welcome, and everyone is treated like family and welcomed with a genuine smile. With these values in mind its not surprising that only the very best hair care products would be found on the shelves in this salon, alongside the full line of Evo products are shampoos, conditioners and much more from Davines, Eurfora and No. 4.