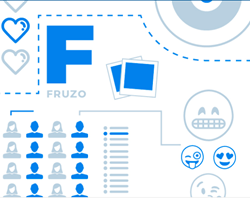 Fruzo offers an excellent opportunity for artists, promoters, and entertainers to spread word about a new project, album, or event in an exciting new way
Los Angeles, CA (PRWEB) October 10, 2016
As the popularity of new social network, Fruzo, continues to grow at an unprecedented rate, users of the video chat service have found ingenious and creative ways of interacting with one another. Fruzo provides users with a fun and simple way to socialize online by connecting people via video chat either using a webcam or the camera on a mobile device. With users gaining the ability to see who they are actually connecting with live and in real time, people have found all kinds of inventive ways to express themselves.
One user, who has gained thousands of followers on Fruzo, took it upon himself to serenade people with a musical number using only a guitar and his imagination. His charming on the spot renditions about the people he encountered has led to fame on the social network, with his creativity trending on Fruzo and leading to many users hoping to come across him when using the video chat. Another popular user uses her artistic skills to draw anything her connection desires in a matter of minutes.
"The nature of Fruzo provides the perfect platform for innovative, creative people to have some fun", said Fruzo co-founder, Richard Fox, "It also offers an excellent opportunity for artists, promoters, and entertainers to spread word about a new project, album, or event in an exciting new way".
Inspiration for creativity isn't just limited to chance encounters with individuals as people have been using the face to face time to play on the spot games that would be impossible without a video connection such as I spy, charades, or rock-paper-scissors. Other people have enjoyed joint karaoke sessions, synchronized dance routines, and even brought their pets to the party by showing them on cam. The excitement surrounding this new style of social network is sure to see many more clever and creative ways people interact with each other in the near future.
About Fruzo
Fruzo is an easy to use dating social network and video chat service where people can socialize online. Fruzo allows users to create an account using their Facebook credentials and chat with other people via webcam, create friends lists, and follow other users from around the world. Users can connect with new people either randomly via the video chat or by searching for friends using a number of filters including sex, country, city, and age. The service is available to use on both web browser and mobile application, providing users with the ability to chat on the go.