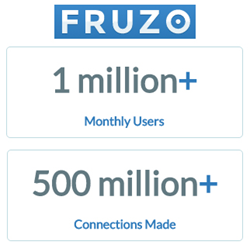 It's amazing that such a simple concept can be so revolutionary for the online dating scene
Los Angeles, CA (PRWEB) October 13, 2016
People seeking a match online have found a new way to connect as dating social network and video chat site, Fruzo, has taken off and hit viral levels of interest. Unlike other popular dating services and mobile apps such as Tinder and MeetMe, Fruzo provides users with the opportunity to actually meet their potential matches face to face using the webcam on their computer or the camera on their smartphone in a video chat arena. This exciting and unique element of Fruzo has created a whole new dimension to online dating and provided users with the opportunity to become ever more creative in trying to gain the attention of potential dates.
Part game, part social networking site, Fruzo has reintroduced fun to meeting new people online and offers a number of benefits over the status quo of dating apps currently on the market. Rather than attempting to match with someone based on a handful of carefully selected pictures and a few lines of text, Fruzo users see and interact with their potential matches in real time on a virtual first date. This eliminates the risk of wasted time by matching with a fake profile or bot and allows people to connect in a more meaningful way to see if they are compatible from the off.
"It's amazing that such a simple concept can be so revolutionary for the online dating scene", said Fruzo co-founder, Richard Fox, "Almost everyone who owns a computer or smartphone has access to a built-in webcam so this felt like the logical step to take for Fruzo".
A recent study conducted for market research by Fruzo demonstrated how the service has become an instant hit and displays trends akin to similar popular services. The dating social network has already made over 500 million connections and boasts over one million monthly users on both the web app and mobile app combined. A sharp spike in popularity of the service since the beginning of September has coincided with the release of the Fruzo app in the Apple App Store and with an Android version of the dating social network due for release later this year, Fruzo shows no signs of halting its rapid rise to the top of the online dating world.
About Fruzo
Fruzo is an easy to use dating social network and video chat service where people can socialize online. Fruzo allows users to create an account using their Facebook credentials and chat with other people via webcam, create friends lists, and follow other users from around the world. Users can connect with new people either randomly via the video chat or by searching for friends using a number of filters including sex, country, city, and age. The service is available to use on both web browser and mobile application, providing users with the ability to chat on the go.