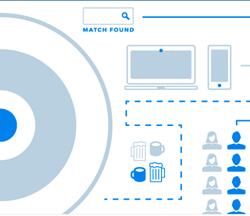 The ability to actually see a potential match in real time allows for much stronger connections and is a fun and exciting way to find a date
Los Angeles, CA (PRWEB) October 17, 2016
Forget Tinder, Badoo, OkCupid, and everything you thought you knew about online dating. A new online dating app, Fruzo, has taken the world by storm with an exciting and addictive way to connect with potential matches by using the built-in camera on your smartphone or tablet device. Released at the beginning of September on the iTunes App Store and due for release on Google Play before the end of the year, the Fruzo app has exploded in popularity with over one million monthly users and a dizzying surge up the Alexa global website rankings.
The beauty of Fruzo lies in a simple concept of meeting potential matches face to face on video chat. Other dating apps are carbon copies of each other, using the tired premise of viewing pictures of potential matches and chatting via a text messaging service, diminishing face to face interpersonal skills and increasing the likelihood of bots, fake profiles, and scams. However, Fruzo embraces the idea of meeting in real time, cam to cam, and brings a whole new aspect to connecting with a potential date for the first time.
"We wanted to bring something new to the stale online dating app scene", said Fruzo co-founder, Richard Fox, "So we came up with the idea of a dating social network with integrated video chat. The ability to actually see a potential match in real time allows for much stronger connections and is a fun and exciting way to find a date".
The social networking side of Fruzo is another concept which strays from the status quo of online dating apps. Rather than having to "match" with someone first, users of Fruzo can follow and add any other user to a friends list either while meeting them in the video chat or by searching for people based on geographical location, age, gender, pictures, and a number of other filters. With over 500 million connections already made on Fruzo, the online dating app landscape is witnessing a revolution which hasn't been seen since the release of Tinder in 2012.
About Fruzo
Fruzo is an easy to use dating social network and video chat service where people can socialize online. Fruzo allows users to create an account using their Facebook credentials and chat with other people via webcam, create friends lists, and follow other users from around the world. Users can connect with new people either randomly via the video chat or by searching for friends using a number of filters including sex, country, city, and age. The service is available to use on both web browser and mobile application, providing users with the ability to chat on the go.