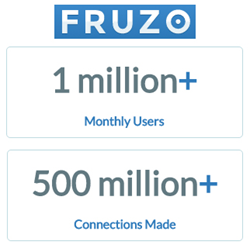 It's incredible to see Fruzo reach these amazing heights in just a few short weeks
Los Angeles, CA (PRWEB) October 20, 2016
Whether it's the excitement of meeting new people face to face or the boredom of using other dating services which offer the same things, dating social network Fruzo is on a roll. In September, Fruzo announced it has reached over one million monthly users and established over 500 million connections via both the website and mobile app, an almost ten-fold increase from August's figures. These stats are backed up by data from Alexa.com, which shows Fruzo is now ranked just outside the top 200,000 websites globally, up from a position of outside the top 800,000 website globally at the end of August. Page views, daily page views, daily time on the website, and search visits have all also increased dramatically over the last six weeks according to Alexa.
The attention gained by the dating social network recently has also piqued the interest of millions according to Google Trends, which displays a steep growth curve since the beginning of September. This data coincides with the release of the Fruzo app in the iTunes App Store and the discovery of the service by news sites and blogs worldwide. It also indicates that an innovative and exciting new way to date online has been long overdue. Meeting potential dates cam to cam in video chat rather than just browsing pre-selected pictures appeals to the basic human need to communicate face to face.
"It's incredible to see Fruzo reach these amazing heights in just a few short weeks", said Fruzo co-founder, Richard Fox, "Our traffic is growing at a rapid rate on a daily basis and we have reconfigured our servers to deal with the tens of thousands of daily visitors on Fruzo".
A recent study conducted for market research purposes by Fruzo revealed that the service is currently displaying trends akin to the early days of other major dating services such as Tinder. Other interesting data shows a close correlation in the gender of users on the service with a 55/45 split in favor of male users and a mature average member age of 27. With the release of the much anticipated Android app scheduled for later this year, these trends seem likely to continue for the foreseeable future as Fruzo continues to take the dating world by storm.
About Fruzo
Fruzo is an easy to use dating social network and video chat service where people can socialize online. Fruzo allows users to create an account using their Facebook credentials and chat with other people via webcam, create friends lists, and follow other users from around the world. Users can connect with new people either randomly via the video chat or by searching for friends using a number of filters including sex, country, city, and age. The service is available to use on both web browser and mobile application, providing users with the ability to chat on the go.