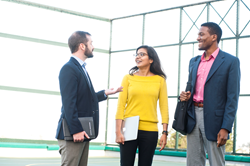 "The Fellowship offers skilled professionals the opportunity to accelerate a career in education – and more than seventy percent of our Alumni are inspired to make an impact as education leaders." - Scott Morgan, Founder & CEO, Education Pioneers
OAKLAND, CA (PRWEB) October 06, 2016
Education Pioneers (EP), a national nonprofit that places skilled professionals in critical, non-instructional leadership positions throughout K-12 public education, today opened its 2017 application for the Education Pioneers Fellowship's 10-week summer track.
EP Fellows work to solve problems from outside of the classroom so students and teachers succeed in the classroom. The nonprofit is seeking 200 professionals with diverse skills and from diverse backgrounds to spend 10 weeks this summer making an impact for Partners organizations in locations across the country.
"We're seeking hundreds of exceptional leaders to offer their skills and insights to our Partner organizations serving public school students," said Scott Morgan, Founder and CEO of Education Pioneers. "The Fellowship's summer track offers skilled professionals the opportunity to try out and accelerate a career in education – and more than seventy percent of our Alumni are inspired to make an impact as education leaders."
Fellows participating in the summer track take on important, often behind-the-scenes work in data and analysis, operations, strategy, and program and project management and more for EP's partner education organizations, including the nation's largest school districts, charter school organizations, federal agencies, and education nonprofits.
Applications for the Fellowship's summer track are now open. Talented leaders who are interested in the 2017 program can learn more about the Education Pioneers Fellowship, including both summer and career tracks, and submit an application on the organization's website: http://www.educationpioneers.org/what-we-do/education-pioneers-fellowship
The priority deadline for the Fellowship's summer track application is December 19, 2016.
Education organizations that seek talented leaders, managers, and analysts for short- or long-term roles can learn more or apply to partner with Education Pioneers via http://www.educationpioneers.org/what-we-do/partner-services.
About Education Pioneers
Since 2003, Education Pioneers has recruited our nation's most extraordinary people to enter into education leadership and help transform our schools. Education Pioneers has recruited and trained more than 3,000 leaders in partnership with more than 200 education organizations in 20 cities nationwide.
Of the organization's alumni in the workforce, more than 70 percent serve in education and lead or contribute to work that impacts more than 3.5 million public school students – most of whom are students of color and come from underserved areas. Find out more about where Education Pioneers' leaders work and their impact here: http://www.educationpioneers.org/our-impact.
More information about Education Pioneers can be found at http://www.educationpioneers.org.
###