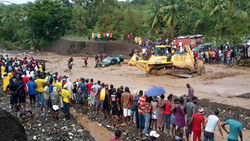 We need volunteers and donations to assist the people of Haiti who have been so severely impacted by Hurricane Matthew
Mattapoisett, Massachusetts USA (PRWEB) October 06, 2016
All Hands Volunteers, the leading disaster relief organization powered by volunteers, is responding in Haiti following the devastation left by Hurricane Matthew and is prepared to assist in Florida and the southeastern U.S.
The Hurricane hit southern Haiti and the Caribbean Tuesday killing at least 19 people and displacing tens of thousands of citizens. The death toll is expected to rise as the struggling nation accounts for missing people. With communication cut off to parts of the country, the extent of damage is difficult to assess but there are reports of entire rural communities wiped out.
"This is the worst storm Haiti has seen in decades, and the damage is catastrophic," said Erik Dyson, Executive Director for All Hands Volunteers. "Both impoverished and densely populated, the country is also still recovering from the earthquake in 2010. This is truly disastrous for them. Our initial efforts will focus on priorities established with local partners who are attuned to the most specific needs of their communities and will likely include clearing debris, opening of roads and building temporary shelters."
This initial assessment will determine the launch of a potential response program for All Hands Volunteers. If needed, the organization will do what it does best – bring volunteers from all over the world to help the most vulnerable populations recover from the devastation caused by natural disasters. All Hands Volunteers spent two years in Haiti rebuilding after the massive earthquake in 2010.
Since its founding in 2004, All Hands Volunteers has responded to 68 disasters worldwide, including Hurricanes Katrina and Sandy, Typhoon Haiyan in the Philippines and last year's devastating earthquakes in Nepal.
All Hands Volunteers has enabled over 35,000 volunteers to help more than 100,000 families impacted by natural disasters all over the world and has received Charity Navigator's highest 4 Star Rating.
HOW TO HELP:
Those who want to support All Hands Volunteers' efforts in response to Hurricane Matthew can make a donation at http://www.hands.org/donate or apply to volunteer.
For more about All Hands Volunteers, visit http://www.hands.org