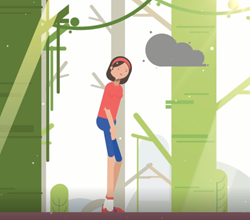 "Unfortunately, many women wait too long. We want to raise awareness that non-surgical treatments exist that can help women return to an active lifestyle."
Monroe, Conn. (PRWEB) October 06, 2016
Elidah (http://www.elidah.com) has been awarded a $750,000 grant from the National Science Foundation (NSF) for further development of its wearable device that aims to treat the one in three women who suffer from urinary incontinence. Despite the significant physical, social, and economic implications of incontinence, non-invasive early interventions are limited. Elidah's device strengthens the pelvic floor muscles and eliminates urine leakage through a design intent on improving patient adoption and compliance. By treating women before symptoms progress, and doing so with a convenient, use-at-home technology, Elidah looks to improve the quality of life for millions of women.
See a short video here: https://youtu.be/Rm0uTvMMrow
Stress urinary incontinence is characterized by urine leakage with activities that increase abdominal pressure such as coughing, sneezing and lifting. Conventional conservative treatments, including pelvic floor exercises (Kegel exercises), suffer from poor patient compliance, and invasive intravaginal devices, such as weights and vaginal stimulators, are not well adopted. The Elidah device is a surface electrical muscle stimulator that eliminates the vaginal probe through use of disposable gelpads worn under clothing. In combination with a miniaturized control the device comfortably tones the pelvic floor muscles while the wearer goes about daily activities, making for a discreet and convenient treatment.
"Incontinence is one of those issues that women don't discuss, even with their doctors." said Gloria Kolb, co-founder and CEO of Elidah. The World Health Organization calls incontinence a major health issue that is largely preventable and treatable. "Unfortunately, many women wait too long. We want to raise awareness that non-surgical treatments exist that can help women return to an active lifestyle."
The highly competitive award is from the National Science Foundation (NSF), which is actively investing in smart health technologies that transform traditionally hospital-centric healthcare to patient-centric solutions. This second grant from the NSF validates both Elidah's technical approach and the large clinical need. The award allows Elidah to accelerate research and development, and ready the product for clinical use and commercialization. In a year that the incontinence industry saw the closure of surgical product manufacturers following tens of thousands of lawsuits, the funding for Elidah's conservative and new type of treatment is timely and welcomed.
About Elidah
Elidah is a women-owned medical device company established in 2014 to help women around the world who suffer from incontinence. Elidah is developing technologies that integrate recent advances in wearable devices, biomaterials and mobile interfaces to deliver innovative therapeutic solutions. Elidah is led by entrepreneur Gloria Kolb, Founder and CEO, an MIT and Stanford trained engineer whose previous accolades include Boston's 40 under 40 and MIT Technology Review's World Top Innovators Under 35 (TR35). To learn more visit http://www.elidah.com.