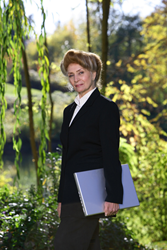 Grants Pass, OR (PRWEB) October 06, 2016
In an interview aired on October 3, 2016, Sharon Kleyne, the nation's foremost water advocate and host of The Sharon Kleyne Hour Power of Water, Global Climate Change and Your Health, welcomed back Dr. Gerald H. Pollack, Ph.D., Professor of Bioengineering at the University of Washington, to continue their ongoing discussion about the lack of new water research.
"The global water situation is terrible," Sharon Kleyne said. "We need new initiatives from the government and the private sector before the planet plunges into an unbalanced dehydration cycle that will unleash mass sickness and death." Dr. Pollack agreed, citing recent catastrophes like the water disaster in Flint, Michigan and the dispute over river water and drinking water between Pakistan and India, among many others.
"General comprehension of these facts is not good," said Sharon Kleyne. "People tend to be dismissive, saying 'oh, it's only water'. But that's like saying, 'it's only my life'. Believe me, the stakes couldn't be higher. If this water crisis gets much worse, we'll be dealing with billions of people whose health will have suffered because they're dehydrated due to excessive evaporation of their water body vapor. At the same time," Kleyne added, "over-evaporation of earth's water vapor will damage the air we breathe."
Dr. Pollack, Editor-in-Chief of WATER and the author of The Fourth Phase of Water, pointed out that water research came almost to a screeching halt in the 1950s. Because of two scientific debacles, one in Russia and one in Australia, scientists around the world were encouraged to redirect their energy and research, and no longer bank on water research. In fact, funding for water research mostly evaporated. Dr. Pollack also referred to the rise of molecular biology as another factor keying a decline in water research. Researchers in molecular biology moved away from a more holistic practice and became fascinated with small, molecular parts. "The result?" asked Pollack rhetorically. "Water was forgotten. That was a life-threatening, inflammatory mistake."
Sharon Kleyne, founder of Bio-Logic Aqua® Research Water Life Science®, says that everyone must understand that the water vapor keeps you alive." Kleyne said that people should do all they can to slow down their body's water evaporation. That means drinking 8 to 10 glasses of water each day and learning to breathe properly. "Slow down the evaporation process," she said. "Live longer. Be healthier." Dr. Pollack agreed, adding that "many people don't understand this key point: water has energy, even the water in their bodies; and as one ages, one's water vapor evaporates much more quickly."