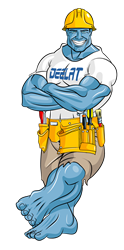 Dougie: the cartoon muscle deal maker comes to life at the 1st Presidential Debate in Homestead, NY.
Hempstead, NY (PRWEB) October 06, 2016
In an effort to gain visibility among a broader audience, Deelat has been looking for muscly individuals interested in representing the industrial brand, by dressing up as the cartoon mascot named "Dougie". Painting their skin blue, wearing a logo branded tight fitting short sleeved shirt, and a token yellow construction hat for safety, the real life mascot follows camera crews around leading up to election day. Deelat has already sent out a representative to attend the coverage surrounding 1st Presidential debate in Hempstead New York, however due to high security and other challenges, the attempt was severely hampered.
Deelat.com is will be visiting other major events in select cities of the United States over the course of the next month approaching the
presidential election day. The goal is to spread brand awareness for the online retail store during high profile events such as the Presidential Debates. Deelat.com has a large selection of niche industrial products and exclusively sells the products through the retail website, with a physical retail office in Miami Beach, FL and a warehouse in Torrance, CA.
Deelat is now looking for individuals in New York City, who reside or spend time in lower Manhattan to represent their brand and therefore they are targeting NYU students as potential candidates. By having their brand represented on the ground and in view of national or local television, more people who typically do not search online will be introduced to the industrial products online retail company.