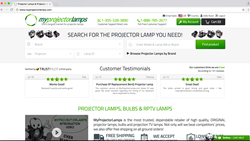 360 degree product videos, zoomable photos, clean design, and attention to detail, the folks at MyProjectorLamps mastered the online shopping experience!
Miami Beach, FL (PRWEB) October 12, 2016
In the 3rd quarter of 2016, MyProjectorLamps's finished launching a new website across 8 different countries. The newly designed site puts strong attention to detail on enhancing the online shopping experience. Visitors to the site will appreciate the simplicity and easy to read content. The heart of the new page is the intelligent and user friendly lamp search. Customers will have the choice of using the intuitive drop down menu options to find their lamp, or manually type into the search field. The search field has a built-in auto-fill component that will make finding lamp models easy as cake.
The green and white color scheme is gentle on the eyes while maintaining a professional design. Each of the lamp buy pages has detailed descriptions, 360 degree, 20 second video clips, 4 x zoom-over photos, and all backed with an industry leading 180-day no questions asked warranty and lowest price guarantee. Maintaining the highest level of customer service through the new design was clearly demonstrated on every page.
Shoppers are raving about the custom checkout. Whether you are a Guest, Existing Account Holder, or a brand new customer; all 3 options lead down an effortless checkout process, allowing for easy navigation, transparent billing, and one-page shopping cart experience. After the checkout process is complete, customer's will have the option for one-click tracking, order history, and the most up-to-date audio visual related news stories on the site's blog and linked social media channels.
MyProjectorLamps is the internet's largest LCD and DLP replacement projector lamp supplier. Excellence in customer service and a newly designed professional website help to showcase the good quality original projector lamp supplier. The company maintains their A+ rating with the Better Business Bureau (BBB). MyProjectorLamps.com has been selling LCD and DLP projector lamps for over 10 years. They have a physical network distribution of 8 sales offices globally: Miami (USA), Calgary (Canada), Mexico City (Mexico), Rio de Janeiro (Brasil), Amsterdam (Netherlands), Pune (India), Tokyo (Japan), and Sydney (Australia).