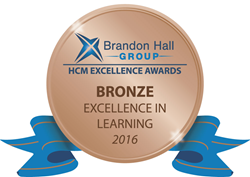 Charleston, SC and Rocky Hill, CT (PRWEB) October 06, 2016
The Medical University of South Carolina (MUSC), one of the nation's top academic health science centers, and NetDimensions won the Bronze Award for Excellence in the Best Launch of a Corporate Learning University category.
Albany Cromer, Learning Technologies Manager at MUSC said: "We are honored by this recognition from the judging panel of veteran, independent senior industry experts, and Brandon Hall Group analysts and executives."
MUSC and NetDimensions' entry titled "MUSC Creates a New Way to Explore Learning Opportunities" featured MUSC's journey in selecting and launching its MyQuest learning management system (LMS), which served as the platform of its corporate learning university for more than 19,000 learners.
Michelle Sullivan, North America Marketing Director at NetDimensions noted: "We applaud our client, MUSC, for winning this award and we are happy to have had the opportunity to support them achieve their goal of offering a full range of training and learning opportunities to their learners, and most especially for enabling to provide the information, documentation and compliance reporting needed for any audits by the Joint Commission."
MUSC supports internal employees, students, faculty, and contractors, as well an extended enterprise, branded as "MUSC Learning" that includes the community, who can register for courses offered by the organization.
"To achieve successful adoption of MyQuest, we launched a campaign that included sneak peek demonstrations, drop-in informational sessions, hands-on training sessions, in-person promotions, distribution of MyQuest-branded merchandise and support stations across the campus manned by the project team for learners to discover the ease and functionality of MyQuest," explained Cromer.
"Winning a Brandon Hall Group Excellence Award means an organization is an elite innovator within Human Capital Management. The award signifies that the organization's work represents a leading practice in that HCM function," said Rachel Cooke, Chief Operating Officer of Brandon Hall Group and head of the awards program.
Excellence Award winners will be honored at Brandon Hall Group's HCM Excellence Conference on January 24-27, 2017, at the PGA National Resort in Palm Beach Gardens, FL.
About MUSC
Founded in 1824 in Charleston, The Medical University of South Carolina is the oldest medical school in the South. Today, MUSC continues the tradition of excellence in education, research, and patient care. MUSC educates and trains more than 3,000 students and residents in six colleges (Dental Medicine, Graduate Studies, Health Professions, Medicine, Nursing, and Pharmacy), and has nearly 13,000 employees, including approximately 1,500 faculty members. As the largest non-federal employer in Charleston, the university and its affiliates have collective annual budgets in excess of $2.2 billion, with an annual economic impact of more than $3.8 billion. MUSC operates a 700-bed medical center, which includes a nationally recognized Children's Hospital, the Ashley River Tower (cardiovascular, digestive disease, and surgical oncology), Hollings Cancer Center (a National Cancer Institute-designated center), Level I Trauma Center, Institute of Psychiatry, and the state's only transplant center. In 2016, U.S. News & World Report named MUSC Health the number one hospital in South Carolina. For more information on academic programs or clinical services, visit musc.edu. For more information on hospital patient services, visit muschealth.org.
About NetDimensions
Established in 1999, NetDimensions (AIM: NETD; OTCQX: NETDY) is a global provider of learning, knowledge and performance management solutions to highly regulated industries.
NetDimensions provides companies, government agencies and other organizations with talent management solutions to personalize learning, share knowledge, enhance performance, and manage compliance programs for employees, customers, partners, and suppliers.
NetDimensions' solutions also include custom content and learning portal development services, as well as off-the-shelf course libraries and regulatory compliance courseware developed by NetDimensions' subject matter experts and content partners.
NetDimensions' award-winning solutions have been chosen by leading organizations worldwide including ING, Cathay Pacific, Chicago Police Department, Geely Automotive, Norton Healthcare, and Fresenius Medical Care.
NetDimensions is ISO 9001 certified and NetDimensions' Secure SaaS practices are ISO 27001 certified.
For more information, visit http://www.NetDimensions.com or follow @netdimensions on Twitter.