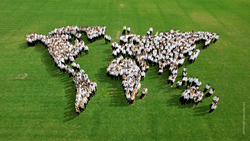 Bluche, Switzerland (PRWEB) October 06, 2016
Les Roches Global Hospitality Education, ranked among the world's top three institutions of higher education for an international career in hospitality management (TNS Global Survey, 2013), announced that it is running a Career-related Programme in hospitality for well-known Swiss International Baccalaureate® (IB) school Collège du Léman based in Versoix, Geneva, started in Bluche VS on September 12, 2016. This new academic offering exposes IB students to the world of hospitality and offers them opportunities to work as an individual and as a team in this dynamic industry.
The program curriculum was developed under the guidance and expertise of Les Roches' academic faculty and is divided into two pillars: an academic portion which will take place at Collège du Léman, and the experiential (practical) learning portion to be delivered at Les Roches campus.
The academic course will span the last two years of IB studies (IB diploma program level 1 & 2). Courses include Scientific Principles of Human Nutrition and Food, Principles of Hospitality Management and People Management, Conflict and Negotiation, and Culture Studies among other topics.
The experiential learning parts will be delivered in blocks with an induction week introducing students to Les Roches' values and the spirit of hospitality, followed by principles of customer service in hospitality during IB level 1. Building on this experience, IB level 2 students will work on class projects gathering real-life customer interaction and guest experience.
"Les Roches is a recognized pioneer in combining innovative teaching methods with a huge network of industry leaders and a global expertise to ensure students have a competitive advantage when entering the workforce," said Sonia Tatar, CEO of Les Roches Worldwide. "When Collège du Léman, a globally recognized international school, was looking for the right partner to develop an IB career program in hospitality, it was a natural choice for Les Roches to offer its long-standing expertise with an institution that shares common educational values and history. We are thrilled to partner with Collège du Léman on this new venture to extend further educational opportunities to high school students."
The Career-related Programme (CP) is a framework of international education that incorporates the vision and educational principles of the IB into a unique program specifically developed for students who wish to engage in career-related learning. The CP's flexible educational framework allows schools to meet the needs, backgrounds and contexts of students.
"The IBCP was specifically developed for students who wish to engage in career-related learning while gaining transferable and lifelong skills in applied knowledge, critical thinking, communication, and cross-cultural engagement," said Thomas Schädler, Director General of Collège du Léman. Being one of the few schools in Switzerland offering such an opportunity at high school level, it is definitely setting up students for future success within the hospitality industry.
Through this career exposure elective, Les Roches exposes IB students with a glimpse into the theoretical and practical aspects of hospitality management and the many different career opportunities for hospitality graduates around the world. This latest program offering aligns with Les Roches' commitment to prepare students for global and diverse careers in the experience industry, projected to provide 87 million new jobs by 2026 (World Travel & Tourism Council).
About Les Roches
Founded in 1954, Les Roches is a private institution based on the Swiss model of experiential learning, offering undergraduate and graduate degrees in the fields of hospitality, tourism and event management. Les Roches prepares entrepreneurial and innovative graduates across a global network of campuses in Switzerland, Spain, the US, China and Jordan.
Les Roches is accredited at the university level by the New England Association of Schools and Colleges, Inc. (NEASC) and ranked by luxury hotel hiring managers among the top three hospitality management schools in the world for an international career (TNS Global Survey, 2013).
For more information about Les Roches, please visit: http://www.lesroches.edu
About Collège du Léman
Collège du Léman is a leading international day and boarding school in Geneva, Switzerland. With students from around the world, Collège du Léman helps students achieve academic excellence while instilling integrity, social responsibility and respect for all. Collège du Léman crafts future leaders and global citizens. The school's world-class faculty equips students from 1 to 18 years old with skills that will help them thrive in a globalized world. Collège du Léman is part of the Nord Anglia Education family, a growing global community of premium international schools.
For more information about Collège du Léman, please visit: http://www.cdl.ch
PRESS CONTACTS
Alexia Lepage
Senior International Public Relations Manager
Les Roches Global Hospitality Education
Phone: +41 (0)79 310 81 93
alexia.lepage(at)laureate(dot)ch
Cédric Antonio
Senior Marketing and Communications Manager
Collège du Léman – International Day & Boarding School
Phone: +41 (0)76 558 63 23
cedric.antonio(at)cdl(dot)ch