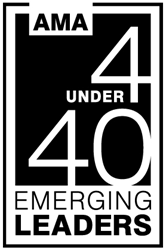 As a community for marketers that inspires curiosity, debate and connection, we are proud to honor these four professionals for their extraordinary commitment in driving the marketing industry forward.
CHICAGO (PRWEB) October 06, 2016
The American Marketing Association (AMA) today announced the recipients of the annual 4 Under 40 Emerging Leaders Award at the AMA's Annual Conference, being held this week at the Loews Sapphire Falls Resort in Orlando, Florida. The award program honors young leaders working in marketing and its sub-fields who are making significant contributions to the future success of the industry.
A committee selected from the advisory councils of the American Marketing Association reviewed the nominations and collaborated on selecting the winning individuals.
"The AMA congratulates the winners and thanks all of the young professionals who submitted nomination forms," said Russ Klein, CEO of the American Marketing Association. "As a community for marketers that inspires curiosity, debate and connection, we are proud to honor these four professionals for their extraordinary commitment in driving the industry forward and for bringing an objective, collaborative and fresh voice to marketing."
The four winners of the AMA Emerging Leaders Award are:
Omar Abdala, is a leader in designing programs that help companies improve their databases and network systems. Currently, he is the chief data scientist at Lotame (formerly AdMobius), where he co-founded the first mobile audience management platform. Prior to Lotame, Omar was a data scientist at Apple, leading the creation of iAd's targeting database using data assets across Apple Corporation. Omar worked with Quattro Wireless, where he designed their core technologies in ad inventory management, network optimization and analytics. Omar holds a B.S. and M.Eng. in Computer Science and Electrical Engineering from MIT, and is a Ph.D. candidate on leave at the School of Engineering and Applied Sciences at Harvard University.
Carrie Montagna, a senior marketing manager with McKesson, is an expert at creating and amplifying content to drive digital marketing campaign success. She has extensive experience launching new products, creating award-winning go-to-market strategies and supporting a sales team with accelerating leads through the pipeline. With over 15 years of experience in B2B and B2C marketing, Carrie is committed to amplifying content to increase buyer engagement. Carrie is one of the lead volunteers for McKesson's corporate social responsibility program and was voted their Volunteer of the Year earlier this year. She is actively involved with numerous nonprofit boards and her LinkedIn Group – NonProfit Marketing – has over 70,000 members and was voted the "Most active marketing group" on the social media platform. Carrie earned a bachelor's degree in marketing from Western Carolina University and has earned additional certificates in healthcare and non-profit marketing.
Barbara Martin Coppola, the chief marketing officer of Grubhub, is responsible for growing brand affinity and driving user adoption at the nation's leading online and mobile food ordering company. She has more than 17 years of technology marketing experience spanning more than nine countries. Barbara spent seven years at Google, with leadership positions in the U.S. and France for Google Express, YouTube and Chromecast. She previously worked for Samsung in South Korea and for Texas Instruments in the U.S., Finland, Germany and Japan. Barbara holds a master's degree in electrical engineering from Universidad Politecnica de Madrid, a master's degree in mobile communications from E.N.S.T, and an MBA from INSEAD. She is also a graduate of the Advanced Management Program at Harvard Business School.
Brad Messinger, senior vice president of client service & marketing at Rise Interactive, is a leader at driving revenue through effective orchestration of go-to-market strategy, business development, and management of successful client relationships. Brad served as the director of marketing for Sun-Times Media, overseeing 41 brands in the portfolio, including its flagship Chicago Sun-Times property. Brad spent three years on the board of directors for the Chicago chapter of the American Marketing Association and currently serves on the Forrester Research Marketing Leadership Board. He earned an MBA in marketing with high honors from Roosevelt University and a bachelor's degree in communications from Eastern Illinois University.
For information about the 4 under 40 Emerging Leaders Award, visit https://www.ama.org/AboutAMA/Pages/4-Under-40--Emerging-Leaders-Award.aspx. To learn more about the American Marketing Association, visit ama.org.