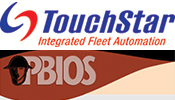 We believe that TouchStar's lineup of mobility apps are uniquely suited for this event and its participants.
Tulsa, Oklahoma (PRWEB) October 11, 2016
TouchStar™, a multinational provider of logistics and mobility software solutions, announced that it will be attending the 2016 Permian Basin International Oil Show (PBIOS) in Odessa, Texas, USA. The biennial event takes place 18-20 October 2016.
TouchStar CEO Peter Gibbs and TouchStar Sales Manager David Fredericks will be in booth B59 at PBIOS and will represent one of more than 700 oil and gas-related companies exhibiting during the three-day event. During the show, Gibbs and Fredericks will highlight TouchStar's proprietary, Android-based fleet management and electronic ticketing app, WellSite, as well as the company's integrated workforce planning and dispatching solution, TS WellSite Manager.
"We are enthusiastic about the strength of the Permian Basin and about being a part of this show that has been a fixture in the oil and gas industry for 60+ years," said TouchStar CEO, Peter Gibbs. "The timing of this year's show is particularly exciting, as the Basin's rig count just topped 200 for the first time since the beginning of this year. We believe that TouchStar's lineup of mobility apps are uniquely suited for this event and its participants."
As a repeat exhibitor at the conference, TouchStar hopes to deepen its relationship with the members of the oil and gas industry and to provide increased insight into its crude hauling and well site services solutions at one of the largest oil shows in the world today. At press time, TouchStar's integrations fleet software is utilized by over 500 companies internationally.
"Many of the conversations taking place today about truck technology are focused on the upcoming ELD mandate," commented David Fredericks, TouchStar Sales Manager. "I would encourage everyone to take this opportunity to incorporate the ability for additional efficiency gains such as electronic ticketing and dispatching. Our Android-based platform makes these tools even more cost-effective and user-friendly."
TouchStar will be located in Booth B59 at the Ector County Coliseum in Odessa, Texas, throughout the duration of the event. Meetings and demonstrations may be arranged with Gibbs or Fredericks by contacting TouchStar online at touchstargroup.com/contact-americas, via email at sales@touchstargroup.com, or by phone at 918-307-7100. TouchStar may also be contacted through its social media channels at facebook.com/TouchStarMobility/, linkedin.com/company/touchstar, and twitter.com/TouchStarGroup (or @TouchStarGroup).
For more information on TouchStar, visit http://www.touchstargroup.com.
About TouchStar
TouchStar is a leading multinational logistics and mobility software provider delivering solutions that meet the specific needs of the Oil & Gas, Field Service, Transportation, and Consumer Goods industries. With a 20 year history and systems worldwide, TouchStar provides cloud and on-premise solutions ranging from fleet tracking applications to comprehensive enterprise mobility and automated accounting solutions. TouchStar is headquartered in Tulsa, OK with technology and support offices in Australia, New Zealand, Austria, and Germany. For more information about TouchStar, please visit http://www.touchstargroup.com.
Contact:
Chris Posey
Group Marketing Manager
chris.posey(at)touchstargroup(dot)com
5147 S. Garnett Rd.
Tulsa, OK, USA
Ph: 918-307-7156