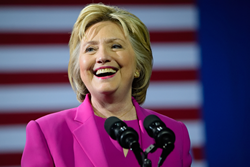 Sixty-one percent of business travelers vote for Hilary Clinton in survey conducted by GroundLink
New York, NY (PRWEB) October 07, 2016
With the U.S. Presidential election just weeks away, GroundLink®, a leading tech-enabled black car service, surveyed more than 300 frequent business travelers and asked them who would be the better leader for the travel industry. Sixty-one percent of those surveyed said that the travel industry would be better served with Hillary Clinton in the White House, while 33 percent elected Donald Trump as their preferred leader for the travel industry, and six percent cast their vote for other candidates. When asked which candidate would be better for frontline airline, hotel, restaurant and car service and taxi drivers, it was no contest. Twice as many of the respondents voted for Hillary Clinton (64 percent) compared with Donald Trump (33 percent) and other candidates (three percent). When asked to name the candidate that would be a better travel companion on Air Force One, again Hillary came in first (61 percent) followed by Donald Trump at 34 percent, and the other candidates with five percent.
"The travel industry generates more than $2 trillion and supports 15 million jobs in the U.S.," said Liz Carisone, CEO of GroundLink. "There is no question that this Presidential election is critically important to our industry, the jobs it supports and the American citizens it serves. We thought that it would be fun to poll frequent travelers on who they feel is best equipped to serve as the Commander in Chief of our industry and address the most pressing travel related issues."
When asked what was the most pressing travel issue that the new administration should focus on once elected, 62 percent of those surveyed said terrorism/security. This was followed by 10 percent who said TSA/security lines at airports, airport runway/infrastructure (nine percent), roads/highways (nine percent), rail infrastructure (four percent), and air traffic technology (three percent).
A majority of those surveyed (63 percent) said that they believe the travel industry and the jobs it provides to the U.S. economy is "extremely important," while 36 percent said it is "somewhat important." Meanwhile, only 16 percent of those surveyed have donated money to one of the presidential candidates because they believe a particular candidate would be more in favor of working with/investing in the travel industry to make it a better experience for the traveling public.
Politicians have often compared New York's LaGuardia airport to an airport in a third-world country. When asked which other U.S. airport was most in need of repair, respondents pointed to: New York/JFK (25 percent), Newark (20 percent), Los Angeles/LAX (11 percent), Chicago/O'Hare (seven percent), Miami (six percent), Philadelphia (six percent), Chicago/Midway (four percent), Dallas (three percent), Washington/Dulles (three percent), Washington/Reagan (three percent), Orlando (two percent) and other airports (ten percent).
When asked to weigh in on Open Skies issues, sixty-five percent of those surveyed said that they didn't believe that the U.S. government should restrict state subsidized Mideast carriers from flying to the U.S. While, 35 percent were in favor of restrictions on the Mideast carriers. An overwhelming majority (81 percent) is in favor of the increased investment that the Obama administration recently made in Amtrak, while only 19 percent are opposed to it.
About GroundLink
GroundLink is a tech-enabled provider of executive black car service in major cities throughout the world. Offering the industry's only on-time guarantee, GroundLink focuses on duty of care, with professional drivers who are screened, properly licensed and fully insured. GroundLink offers a multiple booking platform for its consumer and corporate clients that includes its website (http://www.groundlink.com), its iPhone or Android app, and its 24/7 Customer Service Center (855.463.7150). GroundLink has offices in North America and Europe, with its headquarters in New York, NY. Connect with GroundLink on Twitter @GroundLink and on Facebook.com/GroundLink.
# # #