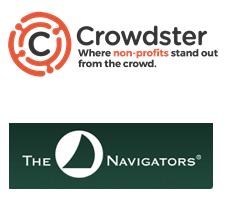 "We are excited about the ease with which Crowdster's software platform allows our staff and college students to rapidly create and launch hundreds of ministry fundraisers online," said Kevin Atkinson, The Navigators Director of Digital Marketing.
Brookville, NY –
October 12, 2016 (PRWEB) October 14, 2016 -- Crowdster, a leading provider of online fundraising solutions including the most advanced Third Party Peer-to- Peer fundraising platform today announced one of its newest clients - The Navigators.
"We are particularly gratified to be working with and supporting such a prestigious faith-based organization as The Navigators," said Joseph Ferraro, Crowdster CEO. "As a fellow Christian and CEO of Crowdster, my primary goal is to help non-profits achieve their mission by reaching their fundraising goals."
Launched as MyNavs, http://www.mynavs.org, The Navigators will be using Crowdster's FriendRaiser platform - a highly advanced Third Party Peer-to-Peer Fundraising program - to expand online fundraising opportunities for their staff, as well as others associated with the organization. Among the first to be implemented by The Navigators will be one of Crowdster's proprietary programs and platforms called Summer Mission Trips where missionaries can raise money to support various ministry trips and outreach efforts.
Crowdster's other clients include The Cystic Fibrosis Foundation, The Bone Marrow Foundation, Action Against Hunger, and many others. For more information, contact Crowdster CEO Joseph Ferraro at (516) 501-9366.
About Crowdster:
Founded in 2007, Crowdster (formerly Karma411) is focused on supporting non-profit and for-profit social enterprise companies to help them achieve their mission. We do so by offering a powerful online fundraising platform combined with advanced fundraising marketing services including creative services, event planning & execution, email marketing and other digital marketing services.
About The Navigators:
The Navigators® is an international interdenominational Christian ministry that helps people navigate through life by growing through Jesus Christ. The Navigators ministry began in the 1930s, when a young California lumberyard worker caught a vision. After seeing the benefits of basic discipleship principles in his own life, Dawson Trotman wanted to teach them to others, echoing the call of 2 Timothy 2:2: "And the things you have heard me say in the presence of many witnesses entrust to reliable men who will also be qualified to teach others"
Today, the Navigator staff family – nearly 5,000 strong – spans 70 different nationalities, 130 languages, and individuals from every heritage and life experience.